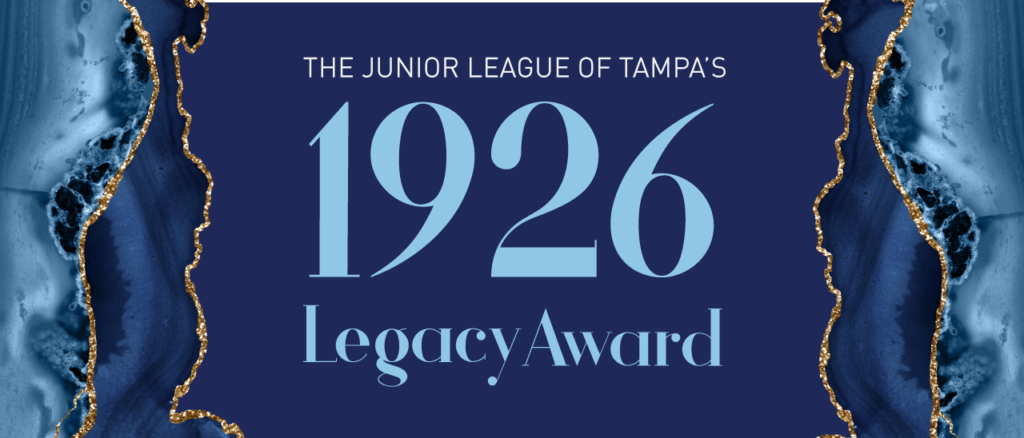 Since 1926, the members of The Junior League of Tampa have worked tirelessly toward making our city a better place for women and children to live and thrive. It is this history of community service that we honor with the annual 1926 Legacy Award sponsored by Tampa General Hospital.
The League believes in the power of one individual to make a tangible difference in our community and is dedicated to honoring those who work daily to create transformative change within Hillsborough County. To that end, The Junior League of Tampa has created the 1926 Legacy Award and accompanying grant to recognize outstanding individuals, as exemplified by inspiring leadership and commitment to lasting community impact, in the areas of child welfare and education. The Junior League of Tampa Annual Gala and presentation of the 1926 Award aims to tell the story of the League and its volunteers, and to celebrate the diverse and influential stories of the award recipients and their tireless work to better where our families live, work and play.
Meet our 2022 1926 Legacy Award Winner- Vicki Sokolik, Founder and Director of Starting Right Now

Vicki Sokolik is the Founder and Executive Director of Starting Right Now (SRN), a nonprofit organization dedicated to ending homelessness for Tampa Bay youth.
SRN serves homeless unaccompanied youths registered in Hillsborough (HCPS) and Pinellas (PCS) County public high schools. All SRN participants are below the "extremely low (30%)" federal HUD income limit, accessing free-and-reduced lunch through the public school and participating in the food stamp program, SNAP, which requires income documentation to determine eligibility.
Unaccompanied youths are often missed by the social service system. They are ineligible for foster care because they are not forcibly removed from their home but rather choose to leave for their own safety. They consistently report family dysfunction as the primary reason they no longer live at home. Many students are forced to leave home when their family cannot financially accommodate all members.
Under Vicki's leadership, SRN empowers homeless unaccompanied youth to become self-sufficient citizens, breaking the cycle of generational homelessness and poverty. Students are referred to the program by HCPS or PCS. SRN provides youth with permanent housing as well as individualized resources to help them thrive as students and into adulthood.
Beyond providing essential services, Vicki has also been a leading advocate for legislative reform to protect homeless unaccompanied youths. Through her work, Vicki was instrumental in testifying before the House of Representatives in Florida to pass five bills protecting unaccompanied youths throughout the State. Due to her role in legislation reform, Florida's Chief Operating Officer for Government Operations, appointed Vicki to serve on the Independent Living Services Advisory Council for the State of Florida. Vicki was also appointed by the Governor to serve on the Council of Homeless Board.
As the winner of the 1926 Legacy Award, Vicki has received $10,000 to support Starting Right, Now and the Tampa Bay youth she has devoted her life to serving.
Grant Criteria & Eligibility
The award recipient may present three organizations they would like to receive the 1926 Legacy Grant. The final recipient will be chosen by The Junior League of Tampa's award judging panel, based on the following criteria:
Non-profit 501(c)3 status

Proof that the organization has been in existence in Hillsborough County at least two years

Funds must be spent in Hillsborough County

Requests shall not be considered for current project partners with the League with a MOA designating the League is spending at least $2,500 on the or an existing project

The organization must align with the mission of The Junior League of Tampa, including a special focus on child welfare and education
There must not be any legal reasons (conflict of interest, political affiliation, etc.) why the organization cannot be awarded JLT funds, as deemed by The Junior League of Tampa
Qualifications
Applicant/Nominee must currently reside in the Tampa Bay area (Pasco, Pinellas, or Hillsborough counties)

Applicant/Nominee is not currently holding or planning to seek an elected office in the next 12 months

Applicant/Nominee must be able to attend the Junior League of Tampa's Bi-annual Gala, hosted April 20, 2024
Judging Criteria
The creation of lasting community impact within the Tampa Bay area

Contributions in the areas of special interest to the Junior League, including child welfare and advocacy, education, literacy, life skills, health and nutrition.

Demonstration of attributes of a role model and mentor

Letters of endorsement and additional support provided