Sustainer of the Year Award
The Sustainer of the Year Award is presented to a Sustainer who has shown outstanding volunteer service in a community service organization or through community service over a significant number of years after the age of forty.
Congratulations to Betsy Chambers, the 2019-2020 Sustainer of the Year!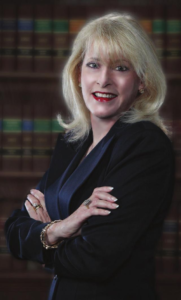 Betsy has remarkable legacy in and out of the League. As a past President and Sustainer President, she has never shied away from an opportunity to rally the troops for good. Outside of JLT she has been leader with many Tampa institutions, including The Chiselers, Mary Lee's House, The Home Association, John B. Gorrie Foundation, and so many more.
A lawyer by trade, she worked for years in the State Attorney's Office 13th Judicial Circuit and the United States Attorney's Office- Middle District of Florida. Notably, she served four years as the Chief Assistant in the State Attorney's Office, breaking barriers as the first woman to hold that position in Florida.
Betsy truly embodies the JLT Mission.
Previous Sustainer of the Year Honorees
1970  Sylvia Corral Vega
1971  Georgia Cornelius MacDonald
1972  Madeline Pasqual Gibbons
1973  Jane Hughey Hewit
1974  Louise Lykes Ferguson
1975  Martha Sale Ferman
1976  Elizabeth Whidden Himes
1977  Nancy Torbett Ford
1978  Helen Ayala Davis
1979  Catherine Ortmeyer Healy
1980  Lois Wilson Garrett
1981  Nancy Lee Woods McKay
1982  Cecile Lee Burnett
1983  Ruthanne Padgett McLean
1984  Jean Ann Ramsdell Cone
1985  Susan Sossamon Bulger
1986  Ann Lowry Murphey
1987  Joanne Hecker Frazier
1988  Isabelle Swift Ferrell
1989  Mia Carnariis Hardcastle
1990  Wynette Howell
1991  Barbara Barritt Romano
1992  Stephanie Mills Chapman
1993  Rosemary Harris Henderson
1994  Stella Ferguson Thayer
1995  Patricia T. Daley
1996  Cecelia Davis Ferman
1997  Sally Lowry Baldwin
1998  Sylvia "Nootchie" Vega Smith
1999  Betty Hall Wood
2000  Lora Warren Hulse
2001  Joan Hedrick McKay
2002  Cody Fowler Davis
2003  Betsy Barron Stagg
2004  Adele Marsicano Clarke
2005  Martha Robbins Hall
2006  Mary Frost Feingold
2007  Sally Shapard Hill
2008  Frances Hyer Reynolds
2009  Judy Polk Lawson
2010  Sarah Jane Rubio
2011  Helen Robbie Williams
2012  Joy Robinson Bell
2013  Harrison Flynn Giddens
2014  Robin Robson Gonzalez
2015  Cynthia Daley Coney
2016 Mary Lee Nunnally Farrior
2017 Robin Wright DeLaVergne
2018 Barbara Harvey Ryals
2019 Pat Robson Carter