On April 2, 1926, 22 forward thinking women joined together to form The Junior League of Tampa. These insightful founding members declared their mission "…to foster interest among our members in the social, economic, educational and civic conditions of our own community, and to make efficient our volunteer service." While the wording has changed over the past 97 years, our dedication to our community and member development remains the same.
MISSION STATEMENT
Founded in 1926, The Junior League of Tampa, Inc. is an organization of 1,900 women committed to promoting voluntarism, developing the potential of women, and improving communities through effective action and leadership of trained volunteers. Its purpose is exclusively educational and charitable.
VALUES
Our values guide our efforts. We are dedicated to the service of our community, members, and partners and aspire to the following organizational values.
Inclusion

 Vision

Empowerment

 Collaboration

Integrity
COMMITMENT TO DIVERSITY, EQUITY & INCLUSION
The Junior League of Tampa was founded to serve an under-represented population and make a difference in the community through a collective action. Today, we continue to champion diversity, equity and inclusion as we strive to fulfill our mission and live our values.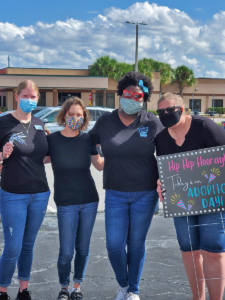 The Junior League of Tampa embraces a variety of perspectives, backgrounds and beliefs through the diverse voices of our membership and those which reflect the diversity of the children, families and communities we serve. This fuels our innovation and affects community improvement through voluntarism.
The Junior League of Tampa creates inclusive environments leveraging unique contributions of diverse individuals and organizations through education and training programs so that we can effectively inform and create opportunities that better assist our members and our community.
Diversity, Equity and Inclusion are at the core of everything we do at The Junior League of Tampa.
Diversity is the quality of being different or unique at the individual or group level
Equity is the pledge of fair treatment, opportunity and advancement while striving to identify and eliminate barriers
Inclusion is the act of bringing together and harnessing differences in a way that is beneficial
The Junior League of Tampa is committed to helping break the cycle of poverty for our most disadvantaged children and families through:
CHILD WELFARE – Improving the lives of children and families touched by the child welfare system, particularly through the continuum of foster care
EDUCATION – Providing educational programs that support emergent literacy, life skills, and health and nutrition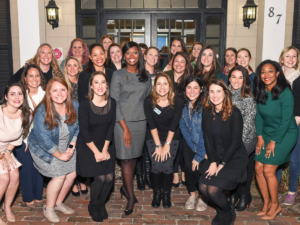 The Junior League of Tampa is led by women volunteers, committed to giving back to their community. Our Executive Board, Management Council, and Leadership Council members hold positions for one year terms, focused on areas from community impact to operations to membership development.
JLT History: Impact through the Decades
On April 2, 1926, the 22 members of The Junior League of Tampa met for the first time. In the following month, Service League members elected their first president, Marion Harvey Partrick, adopted a constitution, appointed Louise Garretson "Placement Chair", and elected 100 young women to provisional membership.
Financials
Commitment to operational excellence and financial integrity enables The Junior League of Tampa to fulfill our Mission.
The Junior League of Tampa raises funds from individual and corporate donors, in addition to hosting special events throughout the year. The money raised exclusively supports our Mission based programs and projects. The League's administrative and operational expenses are funded through annual membership dues.
Our magazine keeps our readers up to date on community issues and the programs we fund and support throughout the Tampa Bay area.
Our 1926 blog features informative and innovative content related to the League's Mission.
Our IMPACT e-newsletter provides quarterly updates to League stakeholders in the Tampa Bay community.