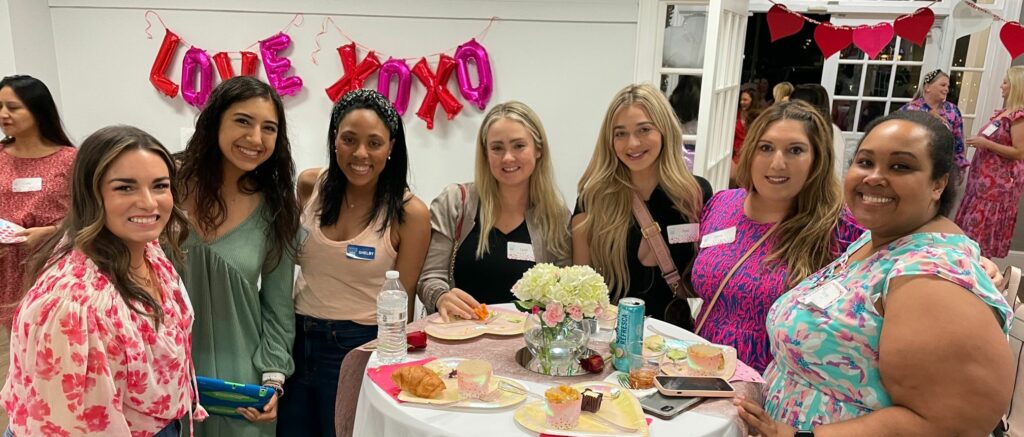 Still have questions? Contact our Prospective Member Engagement Chair.
I am interested in learning more about the League and meeting members. How can I do that?
We host Prospective Member Previews throughout the year at various locations, including our Headquarters on Davis Islands. The dates are posted on our website and on our Facebook page. To be first to hear about upcoming event dates, set up a profile to let us know you're interested in learning more about membership.
We also encourage you to join us for one of our featured events throughout the year. It is a great way to see the League in action!
I am interested in a short-term volunteer opportunity with a specific JLT project. Can I do that?
At this time, we do not offer any short term volunteer opportunities. In order to volunteer with The Junior League of Tampa you must be a member.
What is the age range for applicants?
Applicants to The Junior League of Tampa must be between the ages of 23 and 49 years old when they start their Provisional year on July 1st. For example, a Prospective Member applying to participate in the 2024-2025 Class would need to be between 23 and 49 on July 1, 2024.
I live in a county outside of Hillsborough and Pasco Counties, can I still apply?
If you do not live in Hillsborough County or Pasco County, you may be eligible to join a different League. We encourage all Prospective Members to visit AJLI to find the League nearest to you.
Who can be a Sponsor?
Any Active or Sustaining member in good standing of JLT may sponsor a Prospective Member. Members of the current Provisional class and members of other Junior Leagues are ineligible to sponsor Prospective Members in JLT.
I am new to the area; how do I find a Sponsor?
When you agree to apply, you will have the opportunity to opt into the Sponsor Pool. The Sponsor Pool matches Prospective Members to current eligible JLT members.
I have a family member who is member of a League in another state, can she be my Sponsor?
Unfortunately, no. Sponsors must be current Active or Sustaining members of The Junior League of Tampa. If you do not know any current members, you can opt into the Sponsor Pool when you agree to apply.
How long does it take to receive my matched Sponsor?
Our Prospective Member team are all volunteers who work hard to match Prospective Members with a Sponsor. Please expect to wait 2-4 weeks to receive a match. Because of this timeline, we are unable to provide sponsor matches after March 1st.
I created a profile, now what?
By creating a profile, you have opted into Prospective Member communications and can now begin the application process.  You can log into your profile at any time to begin the application process. The application process requires two steps:
Agree to Apply – You agree you are interested in applying for membership, request to participate in the Sponsor Pool, and pay a $50 application fee.
Membership Application – You tell us why you are interested in joining JLT and upload your sponsor forms.
Is there an application fee?
Yes, all Prospective Members will need to pay a $50 fee when they Agree to Apply.
When is the application open?
The New Member Application Process is a rolling application – Prospective Members can submit an application at any time. Applications are reviewed once per year and are reviewed based on when the Membership Application is submitted.
What are the application deadlines?
Completed applications are reviewed in the spring.
Applications must be submitted by March 15th.
How long do I have after Agreeing to Apply to submit my Membership Application?
Your Agree to Apply submission, including the Application Fee, is valid through March 15th. If an applicant Agrees to Apply prior to March 15th but does not submit her Membership Application, she will need to start the process over and pay the fee again the following year.
Prospective Members should not Agree to Apply unless they plan on submitting an application for the upcoming class.
I do not have access to a desktop computer, can I apply using my smartphone or tablet?
Yes! Our forms are designed to be mobile friendly and can be submitted using mobile devices.
Application Review Questions
How many Provisionals does JLT accept each year?
Based on a number of factors, the Executive Board of The Junior League of Tampa will determine the size of our Provisional class in January.
Will the information (i.e. job, profile photo) I put in my member profile be part of my application?
No, only the information submitted in the application about your interest in joining JLT will be included in the application review process. Please fill in as much information as possible, as it is a great head start if you become a member!
If I am not accepted into the Class, can I apply again?
Yes! Due to the large number of applicants we receive each year, we cannot accept everyone, but we encourage you to reapply next year.
When will I find out if I have been accepted?
Applicants who apply by March 15th will be notified of their status the first week in May.
We notify applicants via email. Please be sure your contact information is correct on your profile in order to receive communication.
Provisional Membership Questions
What is a Provisional?
Provisional members are those new members who are engaged in training established by JLT to prepare them for effective community and active League involvement.
When does the Provisional year start?
The League year begins on July 1. All Provisionals will attend an Orientation to start off their Provisional Year in July or August.