Holiday Gift Market 
Florida State Fairgrounds Expo and Entertainment Halls
The Holiday Gift Market is a curated shopping experience, featuring specialty merchants from the Tampa Bay region and beyond.
Merchants include products such as apparel, candles, home goods, artwork, gourmet food, cookware, jewelry, outdoor furniture, pet apparel, holiday décor, and so much more. With the variety of merchants, shoppers will be sure find something for their entire gift list!
Guest Services Center is presented by TECO
Guest Services
Our complimentary guest services ensure you are treated like a VIP while shopping at the Holiday Gift Market.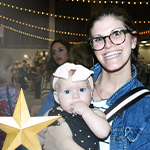 Mothers' Nook
Take a break with your baby in our Mothers' Nook, a designated space for nursing moms.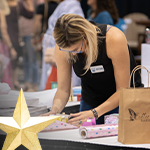 Gift Wrapping
Wrap up your shopping at the Gift Wrapping station. Donations are appreciated.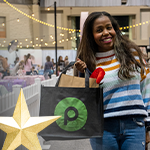 Bag Check
Lighten your load at the Bag Check station, run by JLT volunteers. Donations appreciated.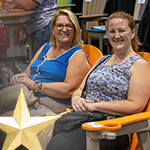 Fan Cave
Cheer for your team in our Fan Cave, while your family and friends shop.
How do I buy a ticket?

Tickets can be purchased online in advance for $10 or in person during the Market weekend for $12. Due to a limited quantity, we encourage shoppers to purchase special event tickets in advance.

Are there a variety of products available for purchase?

Absolutely! We will have over 200 merchants selling at our Market. Many of the merchants are local so your funds help support local small businesses.

Make sure you are following us on social media (Facebook or Instagram) for a sneak peak of some of the merchants who will be in attendance.

What are the hours of the Market?

Thursday, November 9 – Preview Night
6 – 10 PM: VIP Preview Party, includes Bargain Bracelet – Special Event Ticket Required, $100
7 – 10 PM: Preview Night General Admission Ticket Required, $30

Friday, November 10
9 – 10 AM: Exclusive Early Bird Shopping, includes Bargain Bracelet – Special Event Ticket Required, $30
10 AM – 4 PM: General Admission Shopping, $10 (price increases to $12 on November 10)

Saturday, November 11
9 AM to 6 PM: General Admission Shopping, $10 (price increases to $12 on November 10)

Sunday, November 12
9 AM – 4 PM: General Admission Shopping, $10 (price increases to $12 on November 10)

Are there any discounts available to shoppers?

Yes! The Bargain Bangle is back and earns you 10% off all purchases of $25 or more from all merchants at Holiday Gift Market, including many that don't offer sales and promotions! For $18 advance purchase online and $20 at the door, you can save 10% (off purchases of $25 or more) at the ENTIRE market! Bracelets will sell out, so buy now to guarantee your savings! Spend more & Save more- all while Giving more!

Is the cost of parking at the fairgrounds included in my ticket price?

Parking is $10 per vehicle. Payment is collected at the entrance to the Fairgrounds from State Road 301. The parking fees are charged by the venue and do not go to The Junior League of Tampa.

Do I need an additional ticket for special events?

Yes, special events require a separate ticket.

Are food and drinks available for purchase during the Market?

Yes! Fairground concessions will be open during the market which includes an array of food and drink options.

Who do I contact with questions about tickets or attending the event?

Please email hgmtickets@JLTampa.org with any ticket-related questions. Our team of volunteers will respond as soon as possible.

What if I have questions or need assistance during the event?

Find any of our Junior League volunteers who will be located throughout the Fairgrounds and will be wearing volunteer lanyards.

What do proceeds from the Holiday Gift Market support?

The Holiday Gift Market is The Junior League of Tampa's largest fundraiser, with 100% of net proceeds supporting our community projects and programs in Tampa Bay. Our projects include:

The Diaper Bank which distributes over half a million diapers in Hillsborough County every year
The MILO project which supports childhood literacy by stocking Giving Libraries across Hillsborough County
The Love Bundles project which provides backpacks of essentials to children who are entering the foster care system in Hillsborough County

Who runs the Holiday Gift Market?

The Holiday Gift Market (HGM) is planned and executed by volunteers from The Junior League of Tampa. Our HGM committee of over 40 women give their time and talents to pull off this one-of-a-kind shopping experience. They are supported by our over 1900 other volunteers during the Market weekend.

Learn more about our members.