We believe everyone should have the opportunity to find their forever family.
Meeting a forever family can be difficult for children living in foster care. There are few environments where families interested in adoption and children eligible for adoption, can get to know each other. The Junior League of Tampa's Kids Connect project creates events to build and celebrate forever families. Launched in 1996, the project supports more than 100 prospective and adoptive families each year.
Match Events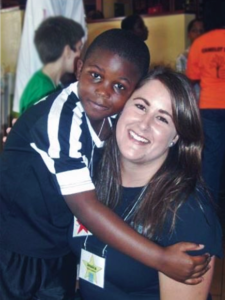 We partner with Heart Gallery to host Match Events throughout the year. These events bring together prospective families and children who are eligible to be adopted in a neutral (and fun) space. The goal is to provide a low stress environment for future forever families to meet and get to know each other.
Interested in joining our next event? Contact your caseworker.
We know the adoption journey doesn't end in the courtroom. That is why we partner with local organizations like the HEART Gallery and 13th Judicial Circuit Court to continue supporting families. Our volunteers host high energy celebrations like National Adoption Day and Adoptive Family Picnics throughout the year.
You can support forever families by giving today. Your gift will fund adoption events which have helped form more than 130 forever families.