The Junior League of Tampa includes more than 1,900 Provisional, Active and Sustaining members. This group of dedicated women are executives, community leaders, entrepreneurs, mothers, and professionals from diverse backgrounds.
As an organization, we are committed to developing the potential of women by providing a variety of training programs designed to empower our members as lifelong volunteers and community leaders.
Join The Junior League of Tampa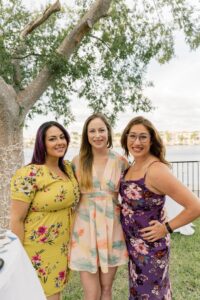 The Application process for the 2023-2024 Provisional Class is now closed.
Check back soon for applications for the 2024-2025 Provisional Class.
If you are interested in making a difference in Tampa Bay and developing your leadership skills, The Junior League of Tampa is the place for you. The application is a multi-step process, starting with creating a new member profile.
The Membership Experience
Being a member of The Junior League of Tampa means joining a community of women dedicated to bettering their community, themselves, and each other. We bring together women with different backgrounds, skill sets, and interests every day to accomplish this.
Our goal is to create a unique space where women can make lifelong friends, grow their leadership skills, learn about the pressing issues in our community, and give back.
"The incredible women that make up The Junior League of Tampa inspire me each and every day. I am surrounded by brilliant, hard-working, compassionate women who are change-makers all throughout our community."
"Our Tampa Bay community is empowered by the effective action and leadership of our trained volunteers. There is no volunteer like one who has been trained by The Junior League of Tampa!"
Membership Levels
The Junior League of Tampa provides the opportunity for lifelong membership (our members range in age from 23 to 103). During their League careers, members participate in three levels of membership. These transitions, allow members to develop their potential and share their knowledge with other women leaders.
Provisionals

Our members in training.

Provisionals are JLT members in their first year of membership. During their Provisional year, they participate in a robust training program designed to help them learn more about the Tampa community and discover how they can be part of the League's work to build better communities.

Actives

Our members leading the charge.

Active members serve as the League's primary boots on the ground. Each Active member has a League job, or placement, based on her interests and availability. Active placement ranges from direct community service roles to fund development support to large leadership positions, like serving on the Executive Board.

Sustainers

Our members preserving our leagacy.

Sustaining members are no longer required to hold a League job, but continue to support the League through their time, talents, and giving. Sustainers leverage their leadership experience to mentor other JLT members and lead some of Tampa's most iconic institutions.
Impact Makers
The Junior League has continued to impact the Tampa community for over 94 years because of our members. Volunteering their time, leveraging their skills, and bringing their own perspectives, our members each have an impact unique as they are.
Each year we recognize a few members who go above and beyond for the League, their fellow members, and the Tampa community.