The Junior League of Tampa is a group of women dedicated to serving the Tampa community and developing our potential. We come from different backgrounds but we are united in our desire to make Tampa Bay better for everyone. 

Eligibility & Acceptance
In order to be considered for membership, applicants must meet the following criteria:
Have an interest in community service
Identify as Female
Live in Hillsborough or Pasco County
Be between the ages of 23 and 39 when she begins her Provisional Year
Have two Sponsors who are current members of JLT (you will have the opportunity to join our Sponsor Pool to be matched with sponsors)
The Junior League of Tampa does limit its class size to ensure Provisionals receive the best training experience. Applicants who are not accepted are encouraged to apply again.
Application
Women interested in membership should submit an application. We use a rolling application process:
All applications received by March 15, 2021 will be considered for Acceptance in the 2021-2022 Provisional Class
All applications received after March 16, 2021 will be considered for Acceptance in 2022-2023 Provisional Class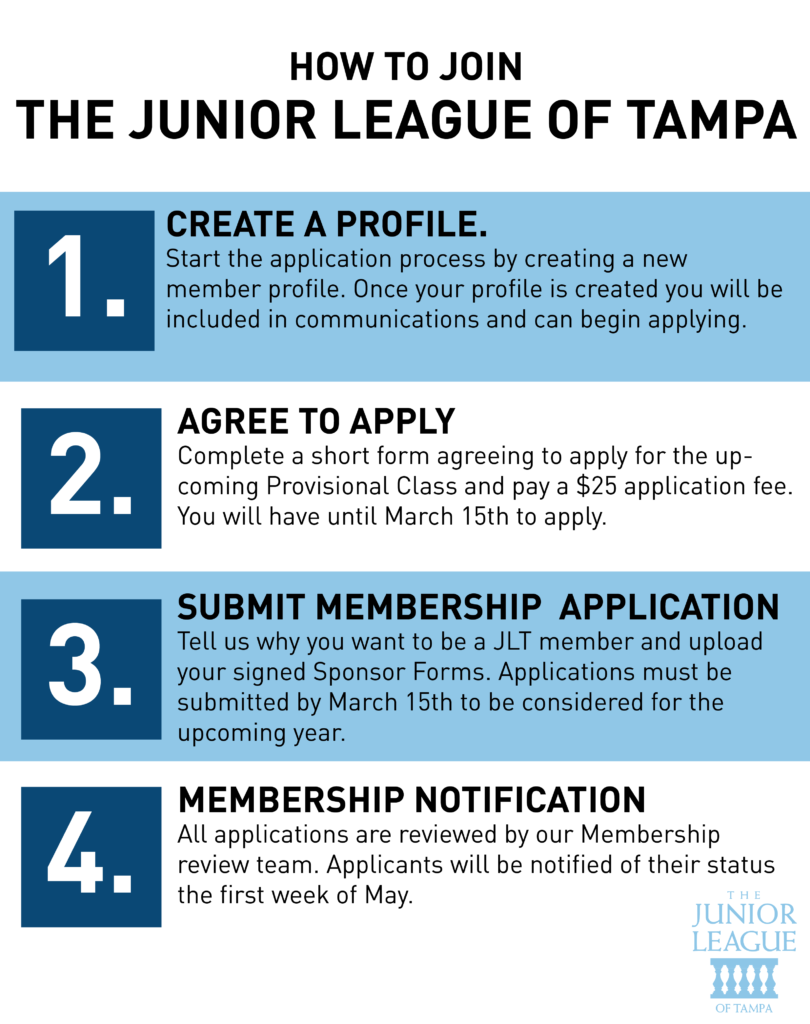 New Member Experience
We accept a class of new members, also known as Provisionals, each year. Your Provisional year is focused on training and discovery. You will have a chance to learn about the Tampa community and how to be an effective volunteer. You will also have the opportunity to volunteer and attend events across the League's different impact areas. You will be equipped with the tools to serve in an area you are most passionate about.
A new Provisional Course starts on July 1st of each year.
Learn More
Still have questions about membership? You can:
Visit our FAQ page
Email our Prospective Member Engagement Chair
Connect with us on social media.