The Holiday Gift Market accepts merchants from a variety of categories including Apparel, Home and Holiday Décor, Gourmet Food and Cookware, Children's Gifts, and more.
Merchant Booths start at $1,100 and go up in price based on booth size and location.
Please create a Merchant profile to be considered for acceptance into our upcoming Holiday Gift Market. Applications will open in January for our 2024 Holiday Gift Market.
Returning merchants will be able to access the application from their merchant profile page.
Apply to be a Merchant
Feel free to create a Merchant Profile, so you are included in any updates regarding our 2024 Holiday Gift Market.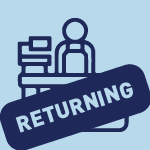 Login to your Merchant Profile to access the application. The application link will be on your home page. Please note a $25 nonrefundable application fee is due upon submission.
Please create a Merchant Profile with your basic contact information. Once your profile is approved, you will be able to log in and access the full application, where you can go into detail about your business. Please note a $25 nonrefundable application fee is due upon submission.
Merchant FAQs
Have questions about participating in the 2024 Holiday Gift Market? Check out our frequently asked questions.
When and where is the Holiday Gift Market?

Holiday Gift Market will take place within the Expo & Entertainment Halls at the Florida State Fairgrounds

Stay tuned for the announcement of the 2024 Holiday Gift Market dates.

I have submitted my application. Now what? When will I hear from you?

All applications are reviewed by a jury through a rolling admissions process. Depending on when the application is received, merchants can expect a response within two months from the date of application.

The sooner you apply, the sooner you will get a response, so we recommend applying as early as possible.

How do I apply to be a merchant at Holiday Gift Market?

In order to apply, you must create a Merchant Profile at JLTampa.org. Once approved to apply, you must complete the merchant application in order to be considered for this Holiday Gift Market. If you are a returning merchant or past applicant and already have an existing profile you can proceed directly to the application when it is available. If you need assistance with your username and password or have a new email address, please contact The Junior League of Tampa office.

How do I increase my chance of acceptance?

Complete the application in full. Incomplete applications delay your applications consideration.

We recommend completing the application as soon as possible. Merchants are selected on a rolling basis. As the market gets closer and spaces fill, we have fewer spaces to offer and have to be more selective. However, if you have waited, please don't allow that to dissuade you from applying – occasionally spaces become available and last-minute applications can be accepted.
Be very detailed regarding the products you sell. Share why your products are popular. If you have had success at markets similar to ours, please note this- make it clear why our shoppers will love your products.
Include photos of your past market displays and your products. We give preference to merchants with attractive booth designs, appealing products, and past market experience. If this is your first market, share why your product is compelling and how you plan to design your booth to attract our shoppers. The more photos and information we have to work with the better.

What kind of shoppers come to Holiday Gift Market?

Due to our large marketing outreach, HGM attracts shoppers from all over the Tampa Bay Area. Because the net proceeds of our market benefit The Junior League of Tampa, many shoppers are members of the organization and come motivated to participate and shop. 

Additionally, this year we are offering a discount bracelet (Bargain Bracelet) that will allow shoppers who purchase the bangle a 10% discount market-wide on purchases $25 and over.  As a merchant at the market, you are required to accept and honor the Bargain Bracelet.

What is Preview night?

Preview night is our private shopping event kick-off on Thursday evening from 6 pm-10 pm. Our shoppers arrive excited to get the first chance to shop our marketplace. We offer special events, food, cocktails, and decor throughout that give the event a fun holiday look and feel and for many in Tampa Bay this event marks the beginning of the Holiday shopping season.

How much will I make at the market?

That is impossible for us to predict. How much you actually make varies depending on your margins, your product popularity, your placement, your own salesmanship, and your visual display.

 In 2022 we saw nearly 20,000 shoppers through the door. Many make it a point to walk through the entirety of the market and stop at any booth that stands out. 

We find that merchants with attractive, unique, well-branded displays showing their range of merchandise at a glance tend to do the best.

How does booth selection work?

Last year we offered pre-selected booth placement and, based on feedback, have decided to continue offering selected booth placements at this year's market. Each booth has been individually priced and these prices can be seen on the merchant map.

If you do not want to select a specific booth placement, we will assign your space at our sole discretion and alert you to your placement approximately 7 days prior to market. The base fee of $1,100 applies if you choose that option. 

If you would like to pick your specific booth placement, submit your top 3 picks in order of preference within the Booth Selection section of the application. Booths will then be assigned based on the order of your selections, with consideration of booth availability, appropriate placement in regards to the overall market mix and already accepted merchants (another reason to apply early!).

When making your booth selections, please keep in mind the rolling merchant acceptance process and that while the map shown is updated after each jury review, it is not shown in real-time. Due to this fact, we ask that you select 3 preferentially ordered choices in case we are not able to accommodate your top pick. 

Spaces are priced based on popularity. Those spaces priced highest are spaces that have historically received more traffic. Some spaces include additional storage that is not available with other spaces and those spaces are priced accordingly. 

Please also note that the prices shown are the current prices and may increase as the market approaches and spaces dwindle. We encourage you to apply early to receive the prices currently shown.

If and when you are selected for the market we will advise you if your space selection was accepted. If we are unable to accommodate your space selection we will offer you the option to select different spaces and advise you what options are available.

Once selected, you have 14 days to submit payment in full and complete the merchant contract.  If a specific placement was selected, your space selection is not guaranteed until your payment and contract are received. 

Where do the net proceeds of the market go?

Holiday Gift Market benefits The Junior League of Tampa, an organization of women focused on improving child welfare and education in the Tampa Bay Area.  This event is run and managed solely by volunteers. Your participation in our market helps make it possible for us to continue to serve our community and we thank you for your consideration and support.

Is electricity available?

Yes,  you can purchase electricity hookups through the fairgrounds. Instructions to do so will be emailed approximately 30 days prior to the market to all accepted merchants.

What items are prohibited?

While you are welcome to sell candles, they cannot be lit on the premises. We do not allow "knockoffs" or designer imitations. Items of a morally questionable nature (to be determined at the sole discretion of The Junior League of Tampa) are barred. If you are unsure if your product is allowable, be sure to list it in your product mix and include photos. We will advise if any specific items that you listed are not allowable. If you do not list a product and later display it or attempt to sell it at the market, we reserve the right to request that you remove that product.

Is the application fee refundable?

All merchants must pay a $25 non-refundable application fee.

I still have questions. Who do I contact?

If you are a participating or interested merchant, please reach out to our merchant team at hgmmerchant@jltampa.org.