We believe all babies should have access to clean diapers.
The Junior League of Tampa Diaper Bank serves to combat diaper need within Hillsborough County by supplying diapers to programs in our community. Diaper Need is the lack of a sufficient supply of diapers to keep a baby clean, dry, and healthy.
Run by our volunteer members, the Diaper Bank collects, purchases, and packs diapers for our community partners across Hillsborough County. Our partners place monthly orders and receive diapers at no cost, to distribute to their clients.
If you are an individual in need of diapers, please contact Champions for Children at 813.673.4646.
If you are a 501(c)3 organization and would like additional information regarding The Junior League of Tampa's Diaper Bank, please complete this Diaper Bank Request for Information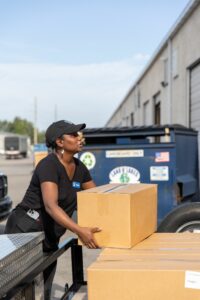 15.5

 million children in the U.S. aged three or younger live in poor or low-income families.
1 in 

2

 American families report experiencing diaper need.

3 in 5 parents miss work or school because they cannot afford diapers.

Diapers cannot be obtained with food stamps.
An average monthly supply of diapers costs approximately $80

 per child. 

No state or federal child safety-net program allocates dollars specifically for the purchase of diapers.
Without transportation, buying diapers at a convenience store rather than a large "big box" store can significantly increase the monthly cost of diapers.
Infants require up to 12 diapers per day, toddlers about 8.
Get Involved
As the only Diaper Bank operating in Hillsborough County, we need your help to fight diaper need.
Partnership Network
We rely on our community partners to distribute diapers to the members of our community, who are most in need. Our current Distribution Partners are:
Beth-El Farmworker Ministry, Champions for Children, Children's Home Network, Dawning Family Services, Gulf Coast Jewish Family and Community Services, Hillsborough Community College, Hillsborough County Public Schools, Lutheran Family Services Florida, Mary Lee's House, Metropolitan Ministries, REACHUP Inc, Redeeming Love Foster Closet, The Spring of Tampa Bay, United Food Bank Services of Plant City, Voices for Children Tampa, and West Florida Foster Care Services
Current Monthly Community Partners may place orders by first completing this Data Collection Form. Once submitted, you will be directed to the Monthly Order Form.
If you would like to place a one-time order for Diapers, please complete this Request for Information and you will be directed to our One-Time Diaper Order Form.
"When the virus began to shut down the city, many of our families were out of work and had very little food, diapers for their children, and other basic necessities. Thanks to The Junior League of Tampa, we were able to provide these families with enough diapers, wipes, and feminine hygiene products to keep them surviving."
The Diaper Bank Partnership Application for the 2023-2024 year is now closed. Monthly partner applications typically open in April. Contact diaperbank@jltampa.org with any questions. 
National Diaper Bank Network
The Junior League of Tampa Diaper Bank is a proud member of the National Diaper Bank Network (NDBN). Learn more about diaper need and the NDBN's effort to combat diaper need.
National Diaper Bank Network
The National Diaper Bank Network (NDBN) provides basic necessities required to build the strong foundations all children, families, and individuals need to thrive and reach their full potential.