At The Junior League of Tampa we believe that women as well-trained volunteers can strengthen and transform communities. We strive to build better communities through our partnership projects, advocacy efforts, and grant programs.
Our Community Projects & Programs
Partnerships for Progress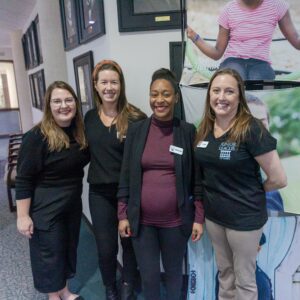 We cannot impact our community alone.
To optimize the impact of our volunteer and financial resources, The Junior League of Tampa seeks collaborative, strategic partnerships with those committed to lasting community impact. We proactively engage with community-based organizations, governmental entities, businesses, and other funders to improve child welfare and education in Hillsborough County.
In this role, we seek to be a catalyst for community change through our work as a community convener, advocate, expert, and leader in our identified issue areas.
The Junior League of Tampa is currently looking for community partners in the following areas.

The Junior League of Tampa's greatest asset is our trained volunteers. Through the Volunteers At-Large program, we leverage our volunteers to support nonprofits across Hillsborough County. Organizations can apply today to request volunteer support for their programs.
Interested in working with The Junior League of Tampa through one of other our community projects?
Funding our Impact
The Junior League of Tampa's community projects and programs impact more than 30,000 Hillsborough County residents every year. To continue this work, we rely on the support of individuals, foundations and companies.
The dedicated support of our donors has allowed us to:
Distribute 260,373 Diapers to families in need
Pack 677 Love Bundles for kids entering foster care
Disburse 20,811 pounds of food to families facing hunger
Give 13,775 Books to children in our community
Serve 11,500 people through our Community Assistance program
*numbers from the 2019-2020 League year
Volunteers Making an Impact
What makes The Junior League of Tampa unique is our 1,900 trained volunteers. Our volunteers leverage their time and expertise to study community need, build lasting partnerships, and provide direct service across Hillsborough County.
"I am encouraged by the projects and community partners we select and how these partnerships drive deep community impact and change. The future of the League and the Tampa community is so bright thanks to our nearly 2,000 members who serve our community both inside and outside of the League walls."
"What else is more powerful that a group of widely diverse women from every background under the sun working towards the same goal of improving our community?"