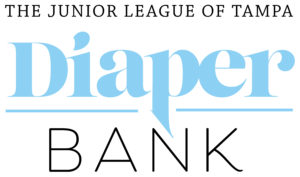 The Junior League of Tampa Diaper Bank serves to combat diaper need within Hillsborough County by supplying diapers to programs in our community.
If you are an agency serving Hillsborough County who could benefit from receiving diapers, please complete our Request for Information Form.
What is Diaper Need?
The lack of a sufficient supply of diapers to keep a baby clean, dry and healthy.
Diaper Need Facts
5.2 million children in the U.S. aged three or younger live in poor or low-income families.
1 in 3 American families report experiencing diaper need.
Diapers cannot be obtained with food stamps.
Disposable diapers cost $70 to $80 per month per baby.
No state or federal child safety-net program allocates dollars specifically for the purchase of diapers.
Without transportation, buying diapers at a convenience store rather than a large "big box" store can significantly increase the monthly cost of diapers.
Infants require up to 12 diapers per day, toddlers about 8.
For more information on diaper need, please visit:  http://nationaldiaperbanknetwork.org
Individuals in Need of Diapers
The Junior League of Tampa Diaper Bank does not distribute diapers directly to individuals or families. If you are an individual in need of diapers, please contact Champions for Children at 813.673.4646.
Support Our Diaper Bank
Help us put an end to Diaper Need in Hillsborough County.
Donated Items
The Junior League of Tampa currently accepts diapers, training pants, diaper cream, wipes, as well as menstrual pads and tampons. Diapers and training pants are accepted in opened packages. However, we are only able to accept unopened packages of menstrual pads, tampons, baby wipes and diaper cream.
Items can be dropped off at the following locations:
The Junior League of Tampa Headquarters
---
Thank you to the
Hettinger Foundation for supporting
The Junior League of Tampa Diaper Bank!