The Luminaries is a recognition program with the mission to preserve the past and inspire the future. The program celebrates Tampa's greatest community leaders and shares their stories with the community as a whole.
Meet the Luminaries
A Luminary is more than a leader. The men and women honored are exemplified by their inspiring leadership, commitment to lasting community impact through advocacy, and achievement of prominence or distinction in a particular sphere.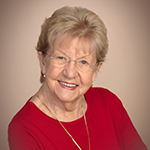 Fran Davin
Fran Davin was born in Quincy Massachusetts and attended Stonehill College the first year the institution admitted women. Fran and her now late husband, Bill, moved to Tampa from California in 1970 and she immediately embarked on a life of advocacy. She is best known as the second woman elected to the Hillsborough County Commission, which she also chaired. But Fran is most proud of her dedication to MacDonald Training Center, where she remains a board member. She worked closely with the late George Pennington to strategize and implement MacDonald's move to its current facility and to provide a sound financial base and plan. Fran has helped create many important assets but points to her work with then-Mayor Bob Martinez in creating a county‐wide bus system and in working with the state to create, fund and launch the TGH Rehab Center. The list of Fran's contributions stretches across all sectors of the community. Some of Fran's most memorable moments include her service on the Tampa Housing Authority and the initial Tampa Bay Performing Arts Center (now the Straz) board; filling the unexpected Tampa City Council vacancy and working as then‐Mayor Pam Iorio's special assistant. Fran was married to her wonderful husband, the late Bill Davin, for 65 years and has three adult children (Carl, Andrew, Suann) and one grandchild (Alexandra). And an old, bossy grey cat (Smokey).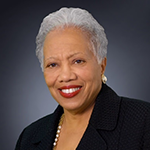 Doretha Edgecomb
Born in Tampa, Doretha Edgecomb is a product of what was long a segregated school system. She attended old Middleton High School, an institution for which she has always expressed strong affection. Edgecomb began her career in education as a middle school English teacher with Hillsborough County Public Schools after graduating from Talladega College in Alabama. After years in education, Edgecomb was elected to the Hillsborough County School Board in the August 2004 primary election and re-elected in 2008. During her tenure she served as Vice Chair in 2010 and Chair in 2011. In 2006, Edgecomb was appointed by Hillsborough County to serve on the Board of the Children's Board of Hillsborough County. After eight years, she led the board as Chair until retiring in 2016. The Children's Board of Hillsborough County recently named their 7th Children's Board Family Resource Center in honor of Edgecomb, which opened in February 2020. The resource center serves children and families, continuing Edgecomb's legacy. Outside of the education field, Edgecomb has been a steadfast advocate for cancer research and treatment in honor of her late husband, The Honorable George Edgecomb. Her work with Moffitt Cancer Center, focuses specifically ending the research and treatment disparities in minority communities.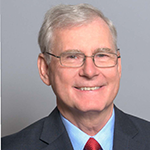 Ron Weaver
Ronald Weaver has helped build Tampa Bay and Florida. Over the past 40 years, Ron has helped form and helped lead a statewide 132-member law firm: Stearns Weaver Miller Weissler Alhadeff & Sitterson, P.A., where today he is Of Counsel. He has built an extensive law practice advising landowners, development companies and local governments in environmental, land use and property rights law and real estate acquisition and financing. He has been involved in the acquisition and development of over $6 billion worth of Florida property in 32 different counties and 62 cities. He has been recognized with countless awards for his leadership in the Tampa Bay business and legal communities. Ron is committed to Tampa Bay through numerous healthcare, education, community, and industry organizations. He has served on the boards for many of Tampa's most influential nonprofits, lending his expertise in planning and development. As the economy entered a recession in 2008, Ron co-founded Real Estate Lives, a non-profit organization that he continues to chair. To date, the organization has helped put more than 4,300 people back to work in real estate and six other industries in the Tampa Bay community.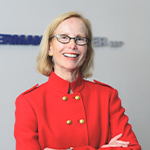 Rosemary Armstrong
Rosemary Armstrong founded Crossroads for Florida Kids in 2012, and in that time has trained and mentored over 150 pro bono attorneys who represent children and young adults in foster care, and serve as Attorneys ad Litem to children in their delinquency and criminal proceedings. Since its inception, the Crossroads for Florida Kids Inc. attorneys have advocated for 261 children in extended, long term representations, and performed short term representations for over 500 children. Collectively, the over 100 active Crossroads attorneys contributed more than 5,000 pro bono hours in 2016 and 2017, making a positive difference in the lives of poor youth in Hillsborough County. Armstrong began pro bono service in 1986 with the Bay Area Legal Services' Volunteer Lawyers Program, assisting women victims of domestic violence. She helped create a Family Law Mentor Project to recruit pro bono attorneys and mentors for the project, which became a model for other pro bono programs in Florida. She served as the Chair of the Thirteenth Judicial Circuit's Pro Bono Committee from 2014-2016. She has received numerous awards and accolades for her work in the community and pro bono services including the Florida Bar President's Pro Bono Service Award for the Thirteenth Judicial Circuit and the American Bar Association Criminal Justice Section's Livingston Juvenile Justice Award.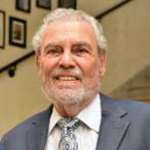 Joseph Capitano, Sr.
Joe Capitano, Sr., helped build Radiant Oil Company, along with his father, to one of the largest and most respected petroleum distributors in the southeast. Capitano served as the President of Florida Petroleum Marketers Association (FPMA) in 1982, and was inducted into the FPMA Hall of Fame in 1995 for his tireless work and lobbying efforts for the association and industry. Today, he serves as the President and Chairman of the Board of Radiant Group, LLC and has transitioned day-to-day operations of Radiant Oil Company to the third generation. Beyond his professional achievements, Capitano has been dedicated to serving his community. He was instrumental in bringing Day Top Village, a drug rehabilitation center to Florida, which now operates as Phoenix House. He is the current President of Central Park Village Youth Services, which serves to better the educational outlook of inner-city children in the Tampa community. He has been active over the years with the Tampa Boys and Girls Clubs, was a founding board member of Cristo Rey High School, and is a long-time member of the Board of Trustees at Academy Prep Center of Tampa. He is also an active member of the Ybor City Development Corporation and has played a vital role in revitalizing Ybor City.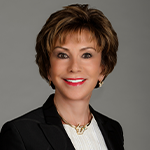 Judy Genshaft
Dr. Judy Genshaft became President of the University of South Florida in 2000, and has since then catapulted the University to national and international prominence for student success, academic rigor, research and innovation, and economic development. The University was recently given the elite designation of "Preeminent State Research University – making it one of three Florida institutions to earn this prestigious honor. In 2017, Dr. Genshaft led the "Unstoppable" capital campaign that exceeded its goal of $1 billion. Dr. Genshaft has been instrumental in economic development efforts in the Tampa Bay region, chairing The Greater Tampa Chamber of Commerce in addition to many other regional economic development boards. She also serves on a national platform as the Chair for the American Council on Education and is a member of the Association of Public Land-Grant Universities Board of Directors. She has earned recognition from many professional organizations and community groups throughout her career. She is a member of the Tampa Bay Business Hall of Fame, recipient of the Tampa World Trade Center's Betty Castor Lifetime Achievement Award, and was the recipient of the Amiga Award for Non-Hispanic Women whose outstanding efforts have improved the quality of life in the Hispanic community. In 2010, she made history when she became the first woman to chair the NCAA Division I Board.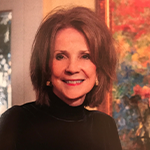 Rosemary Henderson
Rosemary Henderson was born and raised in Winona, Mississippi. Rosemary graduated from Mississippi State University with a degree in business statistics and worked as a systems engineer in Washington, D.C. before moving to Tampa, where she started and raised her family. Rosemary's upbringing in rural Mississippi and growing up on a cattle farm influenced her community involvement later in life. Rosemary has dedicated her time and service to causes which seek to confront racism, increase diversity and support the underprivileged. She served on Mayor Friedman's Bi-Racial Coalition in the 80s, and works with Tampa's youth through Urban Young Life. Rosemary has also volunteered for many area non-profits and boards including Mary Lee's House, Feeding Tampa Bay, Café con Tampa, and serving in the past as President of the Junior League of Tampa and Chairman of the Board of Metropolitan Ministries. Rosemary has two sons and was actively involved in their schools. She has always been involved with her church, including being a founding member of Holy Trinity Presbyterian Church. Rosemary is also a grandmother, a painter and also recently started her own business, Rosemary's Southern Cakes.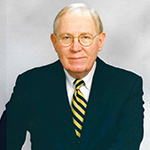 T. Terrell Sessums
Terrell Sessums, a Florida native, was born June 11, 1930, in Daytona Beach. Terrell graduated with a degree in political science from the University of Florida, where he also served as student body president. Immediately after college, Terrell served for two years in the U.S. Air Force before returning to UF for law school. Terrell began his political career soon after moving to Tampa – he was elected to the Florida House of Representatives in 1963, helped rewrite the Florida Constitution in 1968, and served as Speaker of the House from 1972-1974. After his political career, Terrell turned his focus to another passion: education. Terrell has served as a Trustee for USF's Foundation as well as the University of Tampa and Florida Southern College. Local schools carry his name: USF's Terrell Sessums Mall, dedicated in 2001, and Terrell Sessums Elementary School, dedicated in 2004. Terrell has held many other leadership positions in Tampa and in our state, including Trustee at Tampa Bay Performing Arts Center, member and Chair of the Florida Board of Regents, and President of both the Tampa and Florida Chambers of Commerce. Terrell was married to his college sweetheart, Neva, for 55 years before her passing in 2013. Together, they have three children and five grandchildren.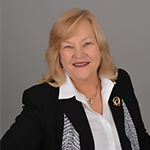 Mary Lynn Ulrey
Mary Lynn Ulrey is a Florida native, born in Tampa and raised in Dade City. Mary Lynn attended the University of Florida, where she graduated with degrees in mathematics and nursing. She later earned a master's degree in psychiatric mental health nursing from the University of South Florida. Mary Lynn's career graduated from nursing to hospital administration, before moving into the non-profit world. After serving as COO at Operation PAR for six years, Mary Lynn became CEO of DACCO in 2002, her current position. Mary Lynn has not only worked to see DACCO triple its budget, but has overseen expansion and renovation of its facilities and has long partnered with other institutions –like the court system and child welfare system – and organizations to increase and improve services. Mary Lynn is also considered an expert in her field and travels regularly to Tallahassee to provide education to our state legislators in the House and Senate. In addition to her commendable professional work, Mary Lynn is active in her community. She is a Sustainer with The Junior League of Tampa, active in her church, and has sung in the Hyde Park United Methodist Church choir for 25 years. Mary Lynn has two sons and is a proud grandmother of three.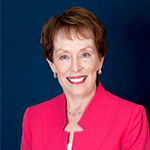 Betty Castor
Elizabeth "Betty" Bowe Castor, a native of Glassboro, New Jersey, moved to Florida in 1966, where she became a politician, a proponent of educational causes, and the first female president of the University of South Florida. Castor's career has spanned continents, bridged social and political gaps, and afforded numerous awards, honors and appointments. Betty Castor's life is a story of firsts – first to lead an all-female climbing expedition to the top of Mount Kilimanjaro; the first woman elected to the Hillsborough County Commission and the first woman elected to the Florida Cabinet. Besides being the mother of two daughters who followed her into politics, and a son who's a judge in Palm Beach County, Castor has been a teacher in Miami, a state senator from Tampa, a League of Women Voters pioneer and the first woman president of the University of South Florida. Castor supports several USF programs including endowments in Music, Women's Athletics, the College of Public Health, Women in Leadership & Philanthropy (WLP), the College of Arts and Science, the USF Library and WUSF. Currently, she chairs the J. William Fulbright Foreign Scholarship Board. Many women hold leadership roles today, but in Florida and in our community, Castor helped break the glass ceiling. She remains an insightful, engaged, committed community leader and inspiring role model to many.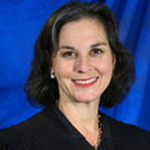 Katherine Essrig
The Honorable Judge Essrig, a Tampa native and graduate of Duke University for undergraduate and UF Law for law school, presides in Hillsborough's family dependency and child welfare court and has drawn state and national attention for her work on and off the bench. She has served as a systemic change agent in establishing services and programming for children and families through her representation on the Children's Board of Hillsborough County for fifteen years. Judge Essrig serves on numerous boards, panels, workgroups and committees locally, statewide and nationally regarding the welfare of children. As the need has arisen in more recent years, Judge Essrig has also been involved in the handling of unaccompanied minor cases and immigrant juvenile cases. Judge Essrig's commitment to the children of Hillsborough County has been influencing reforms in the court system, child welfare, early learning and prevention and intervention programming and has resulted in decreased rates of repeat maltreatment, innovative leadership in the establishment of early childhood court, and a demonstrated commitment to collaboration which resulted in achieving more successful outcomes for children.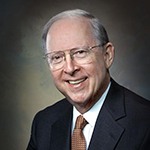 J. Thomas Touchton
J. Thomas Touchton is Chairman of The Witt-Touchton Company LLC, a private investment company in Tampa, Florida. He was born in Dade City, Florida, has lived in Tampa since August, 1964 and is married to the former Lavinia Lee Witt of Tampa. Mr. Touchton served for 23 years as a member of the Boards of Directors of TECO Energy, Inc. and its principal subsidiary, Tampa Electric Company. He also served for 25 years as a trustee or director of more than two dozen investment companies sponsored by Merrill Lynch & Co. Mr. Touchton was the Founding Chairman from 1989-2000 of the Tampa Bay History Center which opened in downtown Tampa in January, 2009 as the most comprehensive history museum on the West Coast of Florida, and he continues to serve on its Board of Trustees. He chaired the History Center's successful $32 million Capital Campaign which provided private sector support for the building, exhibits and endowment. Mr. Touchton's contribution through the Tampa Bay History Center lays a strong foundation around community identity.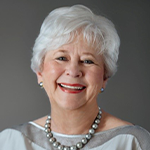 Celia Ferman
Tireless service is a way of life for Celia Ferman. For more than three decades, she has delivered food for Meals on Wheels and spent endless hours comforting parishioners, working in food ministries, and teaching Sunday school at Hyde Park United Methodist Church. As a member of Moffitt Cancer Center's Board of Directors, her contributions have been vast: chairing the Magnolia Ball, serving on the Campaign Finance Committee, enlisting women for the Merit Society supporting female cancer scientists, and championing the Moffitt Lung Cancer Center of Excellence to end the number-one cancer killer. Ferman's presence, advocacy, and prayers have lessened the burden of countless people with lives turned upside down by cancer. She is also a successful businesswoman as a director of Ferman Motor Car Company. With a lifetime of selfless caring, Celia Ferman, a Junior League of Tampa Sustainer, is the epitome of a community champion as role model, mentor, and catalyst for change.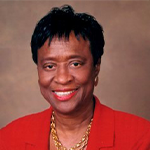 Arthenia Joyner
In the struggle for equal justice for all, Senator Arthenia Joyner has not just witnessed history, she has made history. Before being elected by her peers as the first black woman to serve as the Democratic Leader in the Florida Senate, she was the first black female attorney in Hillsborough and Polk counties, and the first black female elected to the Florida House and Senate from Tampa. After being wrongfully incarcerated during desegregation protests, she pioneered change for all people illegitimately targeted. A past president of the National Bar Association who practiced law for 47 years, Joyner has been an influential advocate for human rights and against human trafficking, a champion for women, and a tireless voice for expanding healthcare. Leading locally with the Greater Tampa Chamber of Commerce, the Hillsborough County Aviation Authority, and guiding nonprofits to success, Senator Joyner is a trailblazer and inspiring example of public service.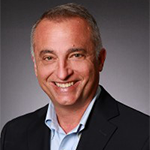 Lincoln Tamayo
As a young Cuban immigrant, Lincoln Tamayo learned English at Our Lady of Perpetual Help in Ybor City. His Jesuit High School Education led him to a bachelor's degree at the University of Notre Dame, master's degree from Harvard University, and law degree from the University of Florida. Tamayo's passion for service called him home to Tampa to take on his most fulfulling work. For 13 years, Tamayo has been transforming education in Tampa Bay through his advocacy for some of the area's most marginalized students. As Head of School for Academy Prep Center of Tampa and Vice President of Operations, overseeing both Academy Prep Centers of Tampa and St. Petersburg. He is forever changing lives for thousands of low income students and families. Lincoln Tamayo brings to life the pledge of personal responsibility he recites daily with his students: "If it is to be, it is up to me."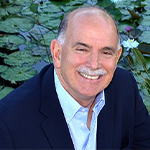 Richard Gonzmart
Born and raised in Tampa and a proud graduate of Jesuit High School, Richard Gonzmart is the fourth generation President and CEO of the Columbia Restaurant Group. Mr. Gonzmart has served on dozens of nonprofit boards and championed numerous causes in the Tampa community. In addition to giving more than $1.5 million to support cancer research at Moffitt Cancer Center, he spends countless hours raising money for local causes, such as Meals on Wheels Tampa and Easter Seals. In 1998, Mr. Gonzmart created the Annual Columbia Restaurant Community Harvest program, which has raised $1.3 million for nonprofits throughout Florida. His annual 5K, "Richard's Run For Life", donates 100% of every dollar raised to Moffitt Cancer Center's Adolescent and Young Adult (AYA) Program and the Advanced Prostate Cancer Collaboration.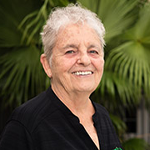 Sister Claire LeBoeuf
Sister Claire has worked in the field of child abuse and neglect for over 35 years and has founded numerous organizations serving foster children. When she was 13, her mother passed away suddenly. She bounced around between relatives for a year until her father remarried. She no longer felt like she belonged, so three years later, she entered the Congregation of the Sisters of Holy Cross–where she has felt a deep sense of belonging for 54 years. The desire to help foster children also feel a sense of belonging has led to the development of her most recent project, New Life Village. Located in Tampa, New Life Village is an intergenerational community, which encourages more people to adopt.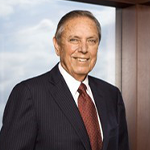 Bob Martinez
A native of Tampa, Governor Bob Martinez is the grandson of Spanish immigrants, and the first and only person of Spanish ancestry to be elected to the state's top office. He is a graduate of Tampa's Jefferson High School and the University of Tampa. He began his public service career as a teacher in the Hillsborough County public school system before going on to earn a master's degree from the University of Illinois. Governor Martinez has enjoyed a long career of public service, serving as Tampa's Mayor from 1979 to 1986 and as the state's 40th Governor. Today, Governor Martinez is an active director or officer for many local boards including The University of Tampa, Hillsborough Education Foundation, Tampa-Hillsborough Economic Development Corporporation, Florida Council of 100, Florida Council on Economic Education, and Lowry Park Zoological Society of Tampa.
The Documentaries
Produced by WEDU PBS, The Luminaries captures the stories of these outstanding leaders. The documentaries premiere at prime time and are then accessible for free streaming to viewers.
The Luminaries 2021

Featuring Fran Davin, Doretha Edgecomb, and Ron Weaver

The Luminaries 2019

Featuring Dr. Judy Genshaft, Joe Capitano, and Rosemary Armstrong

The Luminaries 2018

Featuring Rosemary Henderson, Mary Lynn Ulrey, and T. Terrell Sessums

The Luminaries 2017

Featuring The Honorable Betty Castor, Judge Katherine Essrig, and J. Thomas Touchton

The Luminaries 2016

Featuring Arthenia Joyner, Lincoln Tamayo, and Celia Ferman

The Luminaries 2015

Featuring Sister Claire LeBoeuf, Governor Bob Martinez, and Richard Gonzmart