The Diaper Bank: A Story of Basic Needs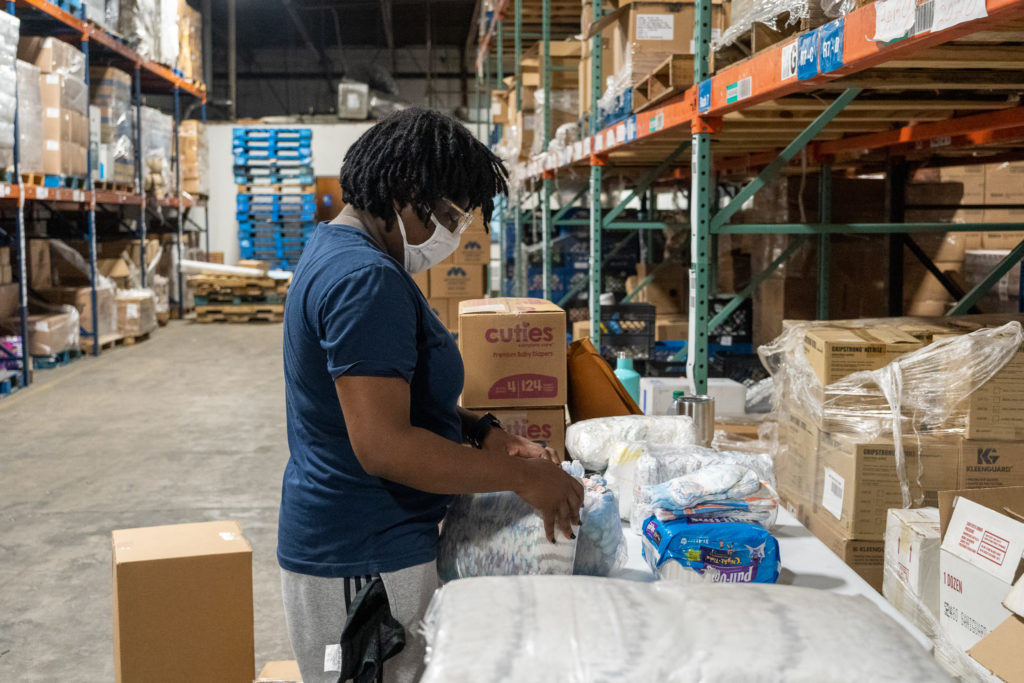 If you think about what families need to thrive, you might think about great education, well-paying jobs and safe housing – and you would be right, all of those things matter. But when families do not have access to basic needs that allow them to lead a clean, hygienic life with dignity, they cannot thrive. Many families in our community struggle to afford essential items, such as diapers. At The Junior League of Tampa, we have seen firsthand the relief and security that comes with access to these basic needs.  Diapers are a critical piece in breaking the cycle of poverty.
THE ISSUE
1 in 3 families in the US report experiencing the lack of sufficient diapers to keep an infant or child clean, dry and healthy, also known as diaper need. As any parent knows, diapers are expensive: about $70 to $80 per month per child, with babies using 8 to 12 diapers per day.
Most people do not realize there are no state or federal child safety-net programs allocating dollars specifically for the purchase of diapers. This means that diapers can often fall to the bottom of the long list of basic necessities—rent, electricity, food, clothing, and transportation—for which a family must budget.
Additionally, families struggling with diaper need often end up paying more diapers than more affluent families. Without access to reliable transportation and the barrier of membership fees, caregivers are unable to purchase diapers in bulk for reduced prices. This often means families are purchasing from smaller convenience stores which can significantly increase the cost per diaper.
Diaper need has a profoundly negative impact on the health and wellbeing of children. Financial stress can lead caregivers to "stretch" diapers or prematurely potty train. Sitting in soiled diapers causes babies to suffer from painful diaper rashes, urinary tract infections, and severe skin reactions. Premature toilet training results in frustration, shaming and punishment for a child who is not developmentally ready to transition out of diapers.
The impact of diaper need negatively affects the caregiver, as infant distress and a lack of trust in their caregiver's ability to respond to their needs damages the relationship between caregiver and child. When a parent cannot provide sufficient diapers for their child, feelings of embarrassment, helplessness, and shame harm the family's mental and economic wellbeing. Sadly, in the worst-case scenarios, parental stress associated with diaper need can lead to child abuse.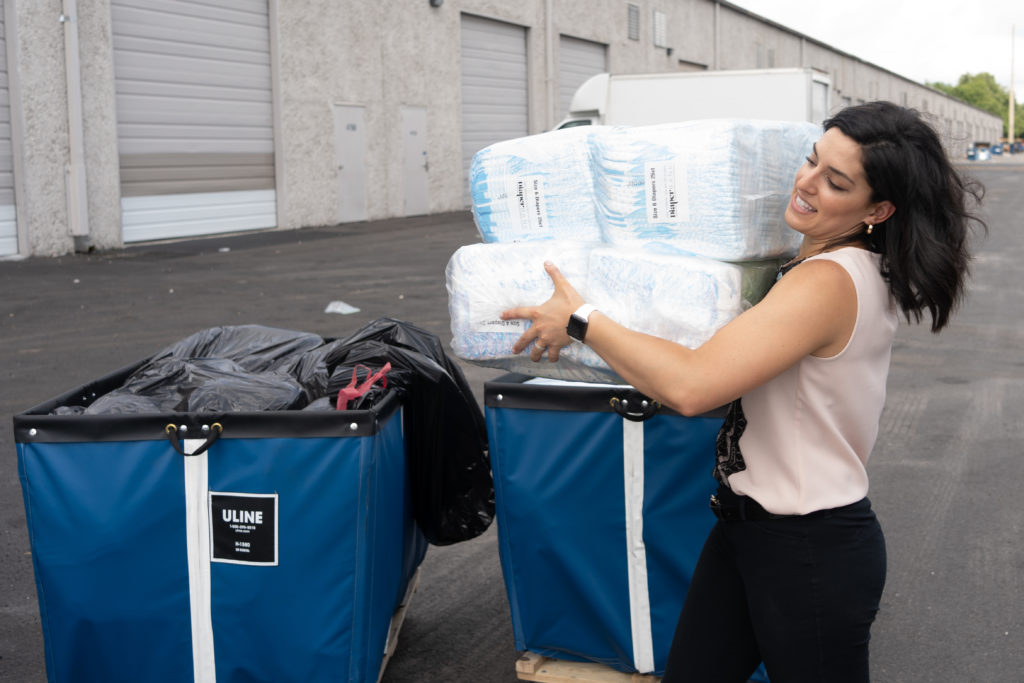 THE FOUNDING
As images of Hurricane Harvey's destruction filled our screens in the Summer of 2017, the news reporter mentioned emergency aid did not supply essential need products like baby diapers. With Hurricane Irma threatening our coast and community, we began considering the potential impact of a landfall here at home and furthered our inquiry into diaper banks.
League members were surprised to discover that Hillsborough County, with over 1.5 million residents, approximately 15% of which live at or below the poverty line, did not have a diaper bank. As they began to research and create our Diaper Bank, we learned that diaper need is not a hurricane-specific issue. It is an everyday struggle for some caregivers in our community.
By summer 2018, the League was prepared to launch the Diaper Bank. The mission was and continues to be, to combat Diaper Need in Hillsborough County by providing diapers, wipes, and rash creams to community partners. The partnership model embodies the League's long-term commitment to community collaboration. By working with our community partners, we also support their efforts to wrap resources around these individuals and families, creating a multifaceted support network.
THE DIAPER BANK TODAY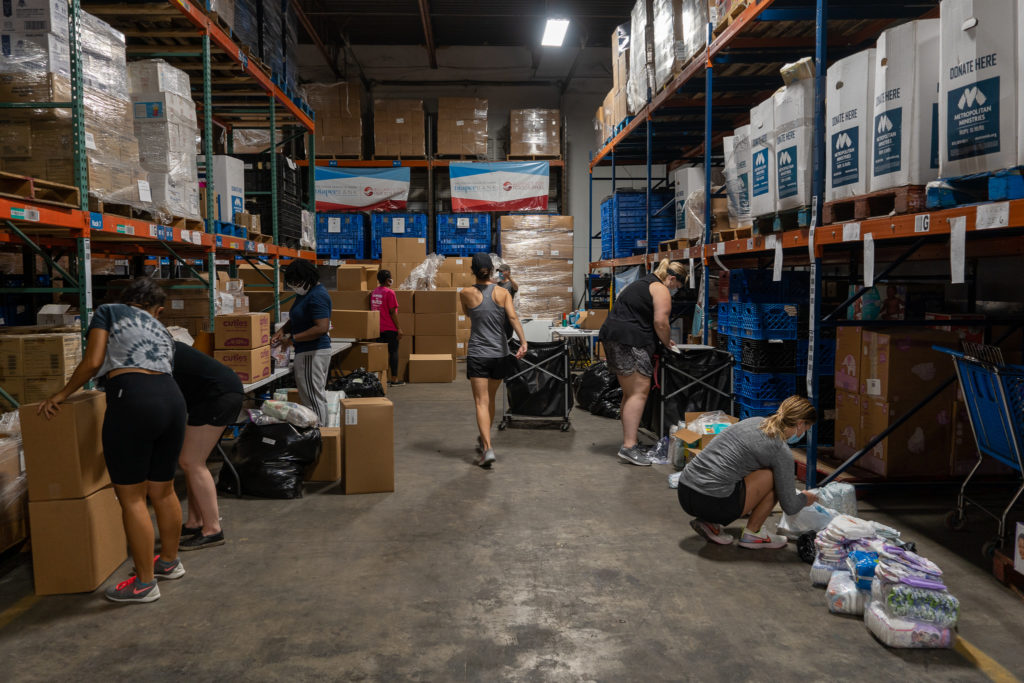 In the three years since its inception, the JLT Diaper Bank has distributed over 1 million diapers. In our inaugural year, we distributed 100,000 diapers to four community partners. By year three, we had scaled up, providing 550,000 diapers to 14 community partners. This impressive expansion of the program was possible in the midst of a global pandemic, thanks to the dedication of our volunteers and supporters.
The Diaper Bank project, like all JLT initiatives, is volunteer-run. The committee of 15 to 20 women run the project's day-to-day operations, coordinating bulk orders, partner product pick-ups, volunteer management, and diaper need-related advocacy. They are supported by the League's membership of 1,900 volunteers.
As we enter our fourth year, we are partnering with 14 local nonprofits as monthly partners and organizations designated as 'As Needed Agencies,' who will be able to submit one-time orders. The Diaper Bank is also expanding its partnership opportunities with local companies, schools, and social groups through our 'Host a Drive' program.
When reflecting on the impact of the Diaper Bank so far, past Chair Lyndsey Siara said, "Distributing our one-millionth diaper in just three years was an incredibly moving experience. With the support of JLT members and the community at large, those one million diapers represented hope and relief for families in need; they allowed caregivers to go to work and support their families; they permitted children to attend daycare and early childhood education; they represented the deep care and concern JLT has for its community and making Hillsborough County a place where children and families can thrive."
To learn how you can get involved with the Diaper Bank, contact us.