JLT Culinary Collection Cookbooks
All net proceeds from The Junior League of Tampa cookbook sales directly support JLT programs and community projects such as Children's Literacy, Connected by 25, Love Bundles, and AJLI's Kids in the Kitchen initiative.
Cookbooks will ship within 5-7 days of your order being received if you have requested and paid for shipping. The form to make those orders is available at the bottom of this page!
The Gasparilla Cookbook– 50th Anniversary Edition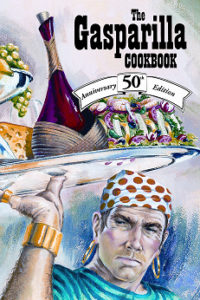 The Junior League of Tampa's The Gasparilla Cookbook is a proven classic, with its collection of superb recipes from famous West Coast Florida restaurants and locally renowned hostesses. This is a traditional cook's book, featuring gourmet regional cuisine and prized heirloom recipes spotlighting the area's blend of Spanish, Greek, Cuban, Italian, and Southern heritages.
A welcome addition to the cookbook collection of both novice and accomplished cooks, The Gasparilla Cookbook features fresh fruits, vegetables, and seafood, and includes easy instructions, and serving suggestions that make cooking and entertaining fun!
A national Tabasco Award winner, The Gasparilla Cookbook is 326 pages, and contains more than 700 recipes. An ideal hostess, shower, or holiday gift, The Gasparilla Cookbook is 7″x 10″ in size, with a hard-back cover.
Price: $14.95
The JLT Culinary Collection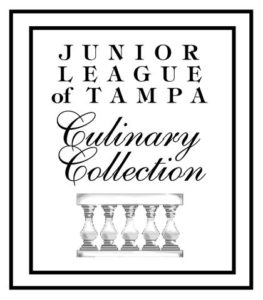 One copy of each of our award-winning Culinary Collection cookbooks: The Life of the Party, EveryDay Feasts, Savor the Seasons, and Capture the Coast at a great discounted rate. Have the complete collection at your fingertips and you'll always have hundreds of combinations for flavorful, fresh, fabulous meals. The collection also makes a great gift!
Price: $60.00
The Life of the Party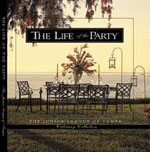 Volume 1 of The Junior League of Tampa Culinary Collection
Step out of the kitchen and into your party with The Life of the Party, Volume I of The Junior League of Tampa Culinary Collection. Published in 2002, The Life of the Party features 128 pages of creative twists on classic recipes, presentation ideas, party menus and entertaining tips.
It's perfect for cooks and party planners of all culinary levels with its festive menus, decorating tips, serving suggestions, party ideas and great recipes. Twice honored by Favorite Recipes® Press with Sales and Marketing Awards, The Life of the Party has achieved national popularity. This beautiful, 9″x 9″, four-color gem with more than 100 recipes is the perfect hostess, housewarming or holiday gift.
Price: $21.95
Everyday Feasts

Volume 2 of The Junior League of Tampa Culinary Collection
EveryDay Feasts, second in The Junior League of Tampa Culinary Collection series, shows everyday people how to create fabulous, memorable meals. Published in 2004, each delicious recipe incorporates fresh ingredients, big flavor and quick presentation to make food special.
Cooking novices and experts alike will enjoy captivating menus showing new ways to connect with family and community, tips for putting together last-minute feasts, a helpful conversion chart, and simple preparation and freezing tips. This elegant, four-color, 9″x 9″ hardback cookbook with 128 pages and more than 100 recipes makes a great gift for family members, neighbors and everyone on your list.
In May 2006, EveryDay Feasts received the annual Favorite Recipes® Press Junior League Cookbook Award for the most successful cookbook sales and marketing program of the year.
Price: $21.95
Savor the Seasons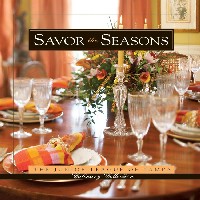 Volume 3 of The Junior League of Tampa Culinary Collection
Embark on a year-round tour of seasonal menus, festive flavors and traditions with a twist. Holidays renew and revitalize us, providing welcome time to relax and reconnect with those we hold dear. They also offer wonderful occasions to experience culinary customs and create new ones.   Old and young alike will find delight in the recipes and traditions included in this book.
Following the traditions of its siblings – The Life of the Party and EveryDay Feasts – the third Culinary Collection cookbook boasts favorite recipes and time honored traditions of Junior League of Tampa members.  We have even included table setting etiquette and other helpful hints to ensure your holiday feast is a hit!   Whether a casual gathering of friends for a New Year's Brunch, a neighborhood Halloween street party or an elegant Thanksgiving dinner, our yearly celebrations are central to our lives.  Savor the Seasons offers creative, delicious recipes that will please your family and guests.
Price: $21.95
Capture the Coast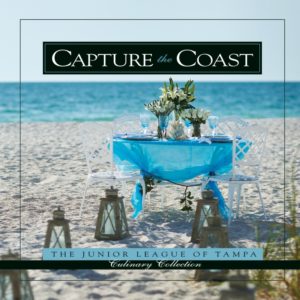 Volume 4 of The Junior League of Tampa Culinary Collection
The final volume of the award-winning Junior League of Tampa Culinary Collection, Capture the Coast debuted on September 1, 2010. This exciting book, features recipes that celebrate our rich cultural heritage, make the most of fresh ingredients from our local farms and waterways, and complement our vibrant outdoor lifestyle.
Price: $21.95
Cookbook Order Form