The Junior League of Tampa is committed to helping break the cycle of poverty for our most disadvantaged children and families through:
Improving the lives of children and families touched by the Child Welfare system, particularly through the continuum of foster care and work in human trafficking.
Providing education programs that support emerging literacy, mentoring, and health and nutrition.
CHILD WELFARE
90th ANNIVERSARY PROJECT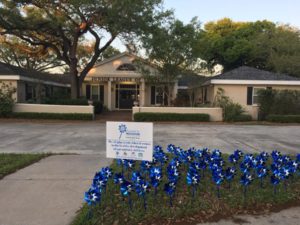 As we embarked on our 90th year, members of the League thought it would be helpful to honor all different aspects of our three part mission: voluntarism, developing the potential of women, and community impact. Through the lens of voluntarism, the 90th projects are nine done-in-a-day legacy projects highlighting an issue or partner we have worked with in each of our last nine decades. The League kicked off this event with the Glazer Children's Museum, a longstanding partner of the League, during Child Abuse Prevention Month, an issue that has been the focal point of much of our work for decades. The 90th Legacy Project committee followed this up by helping with the launch of MILO, our mobile interactive literacy opportunity bus in partnership with the Hillsborough County Library System, WEDU PBS, and the Children's Board. MILO is the signature 90th community impact project, which is helping children build home libraries through the League's donation of books in some of our most underserved  communities.
 The most recent project was a leadership development institute in partnership with Academy Prep. Thirty plus middle school students learned about the importance of giving back and having a personal mission statement to guide their life. Three Sustainers and two active members participated in a moderated panel looking at the importance of mentorship, being true to one's self and following interests and passions well into adulthood, while always keeping an eye to the importance of reaching back and pulling forward the next generation of leaders.
Throughout the 2016- 2017 year, the 90th Legacy Projects Committee will continue with six additional projects ranging from child abuse prevention to health to assisting with tributes to military veterans. As the League encourages every member to donate 90 hours in the 90th year, these projects will provide extra opportunities for members to complete additional volunteer hours. Every project serves as a reminder of the League's past from which hundreds of thousands of volunteer hours were donated, our community and the lives of our citizens were impacted and highly skilled women leaders have emerged.
H.E.A.R.T. (Helping Every Adoptable child Rise Together)
Since 2011, we have worked with the Children's Board Heart Gallery of Tampa Bay to provide birthday parties and quality of life events for the youth in foster care. Our volunteers bring personalized celebrations to children who wouldn't otherwise have this experience and often times this is the first birthday party they have had. In addition to customized birthday parties and quality of life events, our volunteers held two group photo shoots in which children had the opportunity to have professional photographers take their pictures for the Heart Gallery exhibit. With approximately 30 children participating, these group events provided those siblings living apart an opportunity to reconnect and spend time with one another. Customized birthday parties are created off the foster child's wish list and no theme or wish is ever too big. Last year some favorite birthday parties included a behind-the-scenes tour of the veterinary center at Busch Gardens and a fishing tutorial at Bass Pro Shops.
KIDS CONNECT
One of JLT's longest standing projects, in partnership with Camelot Community Care, The Junior League of Tampa organizes events where foster children available for adoption can meet with prospective families, and interact in a fun, low-stress environment. Since 1996 we have assisted more than 160 children find a forever family.
LOVE BUNDLES
In coordination with Eckerd Family Services and the Hillsborough County Sheriff's Office, our volunteers pack thousands of backpacks containing essential clothing, toiletries and comfort items to help bring comfort to children entering foster care with little or no belongings. Since 1996, Love Bundles has focused on providing backpacks to children within the first 24 hours of removal from their home due to neglect or abuse. This year, the committee distributed 995 backpacks to children in need and they also partnered with Eckerd to provide a closet of clothing and other essentials for children transitioning between foster care families.
READY TO ACHIEVE
Since 2007, The Junior League of Tampa has worked with youth aging out of foster care to provide events to ease their transition into independence. The events focus on life skills, parenting, nutrition and other issues to improve quality of life. This year, the committee hosted five events in partnership with Eckerd Youth Alternatives and Camelot Community Care: a sibling reunification event, a Shop & Show for interview clothes, cooking demonstration, a Mommy & Me class, and graduation. The committee also hosted a holiday party for Starting Right Now.
EDUCATION
CHILDREN'S LITERACY PROJECT
Since 1999, League volunteers have read to kindergartners in Title I Schools to promote literacy skills and distributed tens of thousands of books to the children to build their home libraries. Additionally, we host Family Literacy events where parents and children are engaged in hands on activities that support reading and writing practices. Volunteers read to students in five partner schools: B.C. Graham Elementary, Broward Elementary, Desoto Elementary, USF/Patel Elementary, and St. Peter Claver Catholic School. Classroom volunteers served 19 classrooms with over 400 children and distributed nearly 9,000 books over the course of the year. Special events, primarily book fairs, allowed the committee to serve over 1,600 children with 3,000 books.
FAMILY LITERACY NIGHTS
Family Literacy Nights served 965 children through 15 literacy nights hosted at five Hillsborough County Title I Schools. Themed events (safari, pirates, and beach) provided evenings of fun, interactive literacy activities and dinner for the entire family. Over the course of the year, League volunteers distributed 1,230 books, 450 bags of take home food, and 75 teacher supply bags/gift cards to teachers. The Committee was honored to receive three Literacy Volunteer Award Certificates: one from the Hillsborough County Literacy Association (together with the Children's Literacy Committee) and two from Hillsborough County Public Schools (nominated by both Broward and Graham elementary schools).
FOOD 4 KIDS
The Junior League of Tampa partnered with Feeding Tampa Bay in 2009 to build and sustain a "backpack" program established to keep hunger at bay on weekends by providing disadvantaged children with a bag of nutritious food on Fridays. The Junior League of Tampa supplies over 300 bags of nutritious food to children every Friday during the school year. With over 11,000 bags given out this year, this food is intended to sustain these children over the weekend when they are not receiving their meals from school. In addition to the regular distributions, the committee also hosted three mobile food pantries throughout the year.
GIRL POWER!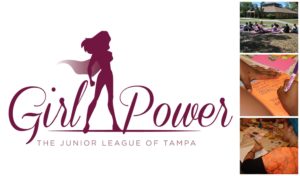 The Junior League of Tampa volunteers host monthly activities with teenage girls, ages 13 to 17, at the foster group home, Joshua House. This Girl Power! project is going into its fourth year and on average serves 20 girls at its activities which run year round. The goal of the project is to have a deeper impact with the young ladies of the next generation by offering mentoring, motivation and education through activities which focus on literacy, scholarship, nutrition, and positive self-image as well as important topics as personal hygiene. Topics have included The Power of Etiquette, The Power of Self Esteem, The Power of Education and fun painting parties, too! They also have guest speakers from organizations ranging from USF to the Crisis Center of Tampa Bay.
KIDS IN THE KITCHEN
The Junior Leagues' Kids in the kitchen initiative was created by the Association of Junior Leagues International (AJLI) with the goals of empowering youth to make healthy lifestyle choices and helping reverse the growth of childhood obesity and its associated health issues. Through engaging, innovative activities and our fun "Foodin' Around in the Kitchen" curriculum, League volunteers work with elementary school youth to introduce them to better nutrition, improved fitness and cooking their own food. The Committee added a seventh location this year and conducted 120 events serving over 400 children. The Junior League of Tampa adopted Kids in the Kitchen as a project in 2005 and made it the official training project of each year's Provisional Class beginning in 2012, providing incoming members the opportunity to plan, lead and participate hands-on in a large scope community program. This year over 127 Provisional members volunteered at local after school centers, impacting over 1,200 youth.
LUMINARIES
The Junior League of Tampa created The Luminaries, in partnership with WEDU PBS, as an annual recognition program to recognize and showcase outstanding individuals who have, through their inspiring leadership,  empowerment or advocacy made a lasting impact on the Tampa community. The Junior League of Tampa aims to improve the community by preserving and inspiring a legacy of Luminaries who are catalysts for lasting community impact. The 2016 honorees were Celia Ferman, State Senator Arthenia Joyner and Lincoln Tamayo, who all have achieved exceptional prominence or distinction in a particular sphere.
The Luminaries leadership award program takes recognition a step further by capturing and preserving the influential stories of the award recipients through the creation and distribution of digital media biographies, which are presented at the Award Ceremony and are made into a program to broadcast on WEDU PBS and displayed on the WEDU PBS website. In addition, DVDs of the program are distributed to educators, colleges, civic groups, and libraries for educational purposes.
For more information about the Luminaries Award, please visit the Luminaries page.
MILO (Mobile Interactive Learning Opportunity): NEWEST COMMUNITY PROJECT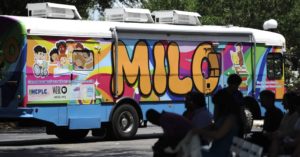 In 2016 The Junior League of Tampa added a new component to its literacy projects : MILO (Mobile Interactive Learning Opportunity). We began hosting mobile monthly literacy events throughout Hillsborough County and offered a new summer placement option. In partnership with the Tampa-Hillsborough County Public Library, the Children's Board of Hillsborough County and WEDU PBS, the MILO bus visits underserved locations providing books, literacy activities, opportunities to meet PBS characters, and book readings for children ages 3 to 8. Volunteers read with children, give out books and educate families on the importance of literacy and introduce resources available to them.