New Year, New Leaders: Conversation with First Year Actives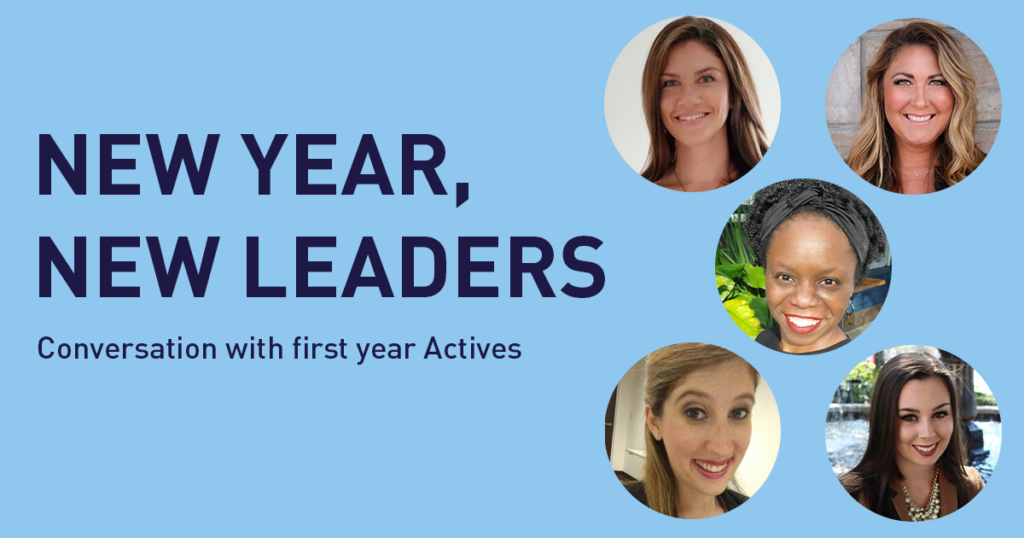 Last year was a unique year, but that did not stop our 2020-2021 Provisional Class. When over 100 women applied to join JLT back in March 2020 they did not expect a global pandemic and a year marked by adapting to the new normal.
While the Provisional experience was not what they anticipated, these women dove in head first to all the League offered. They were engaged, jumping at the new opportunities. They were patient as we navigated the unknown. They were leaders, bringing positivity and fresh ideas to every table and Zoom meeting.
As the 2020-2021 Provisional Class enters their first Active year, we sat down with several members to talk about what they were looking forward to, the importance of women in leadership, and more.
What are you most excited about for the upcoming year?
I am excited to learn more about JLT and its operations. I look forward to meeting and getting to know more of the women who are members more intimately. I am looking forward to experiencing the League in its entirety this year. – Tia Smith
After a strange year of separation and zoom calls, I am greatly looking forward to an in-person Holiday Gift Market! I was fortunate enough to be selected as a committee member for HGM and am excited to assist with the League's largest fundraiser of the year. As a Provisional during the pandemic, it is also very exciting to get to meet so many more members in-person this year! – Ellerbe Bittner
I am most excited about in-person volunteering and social opportunities. While the pandemic put some hurdles in our way, I was very impressed with how everyone in the league found ways to fundraise and socialize virtually. – Kristin Boulette
I'm most excited about meeting other JLT members and prospective members. My first year in the League was during COVID-19, so while it was still a great experience, I'm excited to engage with other women in-person and learn more about all that the League has to offer. I'm grateful to hold a leadership role as Assistant Chair of Prospective Member Engagement during my first active year. At the same time that I'll be learning more about the League, I'll be able to share my journey with prospective members. – Samantha Fitzmaurice
I am thrilled to get to know a wider audience of the strong Junior League women that I didn't get a chance to connect with last year. I am very excited about my upcoming committee assignment to work with the Sustainers as the Community Service Coordinator. – Danielle Laffey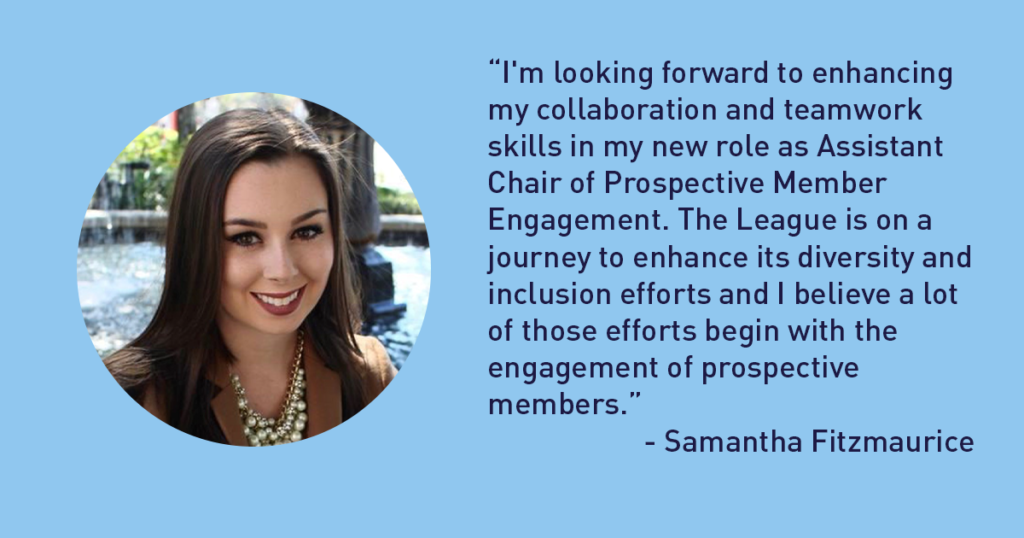 What skills or experiences are you hoping to gain this year?
I am hoping for the ability to utilize my leadership skills and give back in a meaningful way this year. – Tia Smith
Leadership skills that will further enhance my opportunities to give back into the future. – Ellerbe Bittner
I currently work in higher education digital marketing and while we partner with many different clients and are exposed to different brands and tools, I know there are so many other approaches to get the job done. It will be great to work in the PR and Marketing committee alongside other marketing professionals to get exposure to different thought processes. – Kristin Boulette
I'm looking forward to enhancing my collaboration and teamwork skills in my new role as Assistant Chair of Prospective Member Engagement. The League is on a journey to enhance its diversity and inclusion efforts and I believe a lot of those efforts begin with the engagement of prospective members. Working with the Prospective Member Engagement committee to identify ways in which we can support the League in its DE&I efforts will be challenging and rewarding, but I'm excited to see the outcome. – Samantha Fitzmaurice
I'm fairly new to Tampa and cannot wait to get to know my community better. I hope that my 2021 placement will allow me to understand the landscape of the city, the issues many face and allow me to do a small part to make it better. And a bonus is I get to meet amazing women along the way to learn from as I expand my own footprint here in the bay area. – Danielle Laffey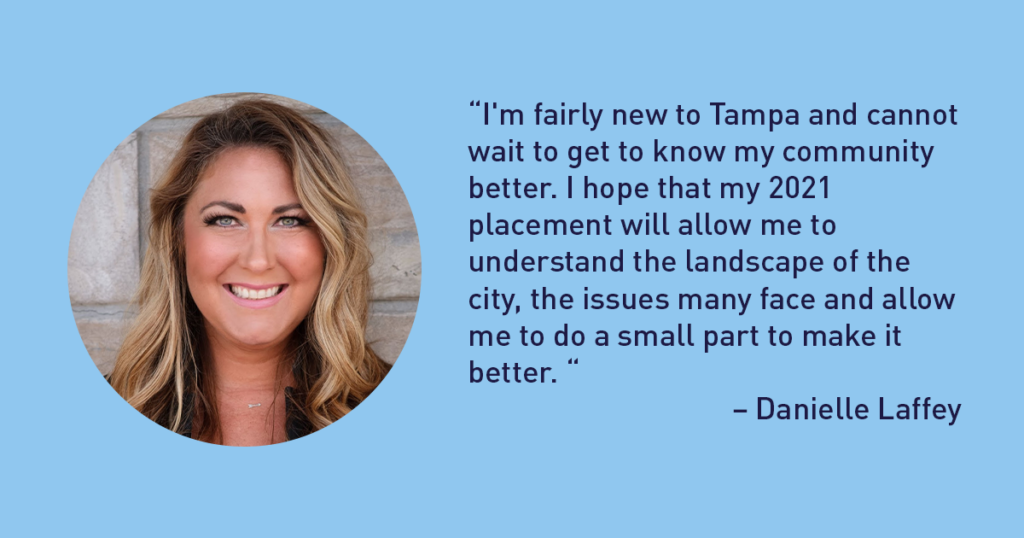 Why is do you choose to volunteer? 
I choose to volunteer because giving back to the community in which I live is important to me. I know that there are so many ways I can use my knowledge and talent to support the people and organizations in need within this community. Contributing in a positive way to the community brings me joy and makes me feel good. – Tia Smith
Volunteering is something that I was exposed to by my parents. I learned at an early age that giving back not only is good for the one being given to, but it is very fulfilling as the one giving. In my adult life, my employer The Bank of Tampa, strongly supports our community and it's employees involvement in it. This is a culture that I find comfort in and admiration for as well. – Ellerbe Bittner
I want to give back to a community that has welcomed my husband and I with open arms when we relocated to Tampa Bay 7 ½ years ago. The Junior League is involved in many causes that I hold near and dear to my heart and I get to give back alongside like-minded ladies. – Kristin Boulette
Our community can only change when action is taken, which is why I volunteer. I'm passionate about the Tampa Bay community and all that it has to offer. As our community continues to rapidly grow, we need to make sure that Tampa continues to become the community we want it to be. As a volunteer, I get to see where we are struggling as a community, but I'm also given the chance to do good and help where needed. Volunteering isn't just giving back, it's creating long-lasting change. – Samantha Fitzmaurice
I am fortunate to have been very blessed in my life up to this point. I love to give my time, talents and efforts to those that are in need to help them become better versions of themselves. I also want to give back to the community that I live in to make it better than when I found it for the next person to enjoy. – Danielle Laffey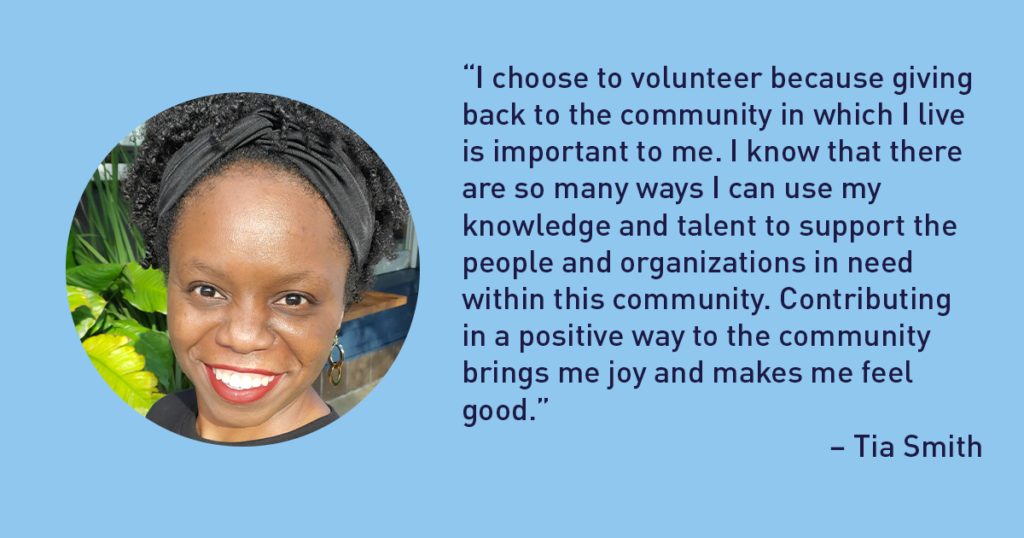 Beyond serving the community, JLT wants to help women become better community and civic leaders. Why do you think it is important for women to serve as leaders in the community?
Because as Beyoncé said, we run the world. We are the often overlooked and underappreciated backbone of not only the family unit but the social, political, and community initiatives that shape the world in which we live. – Tia Smith
I think that women have a different perspective than men and it is important for that perspective to be recognized as women make up a large part of the population of our community. Would a man recognize the need for a diaper bank? Probably not, but it has been a remarkably successful project in helping a need in our community. – Ellerbe Bittner
I think that representation matters. Our young girls are watching us and when they see women from all different backgrounds and races coming together for great causes, it will inspire them to do the same. – Kristin Boulette
"Who is sitting at the table?" When decisions are being made for our Tampa Bay community, we need to make sure that those sitting at that table represent our community, and that includes women. Women need to not only be there when the decisions are being made, but they need to actively be part of the discussions around our community. JLT provides a space for women to come together as leaders, to be supported, and to feel empowered. – Samantha Fitzmaurice
Women come with a unique perspective to the world, many times with a different approach to solving issues than men. I have witnessed women leaders tend to be more nurturing and collaborative within organizations and teams. It's important women have a voice to exercise change in their community that affects them personally. It's also crucial for the young females to have women leaders to look to as role-models whom they can aspire to assimilate. – Danielle Laffey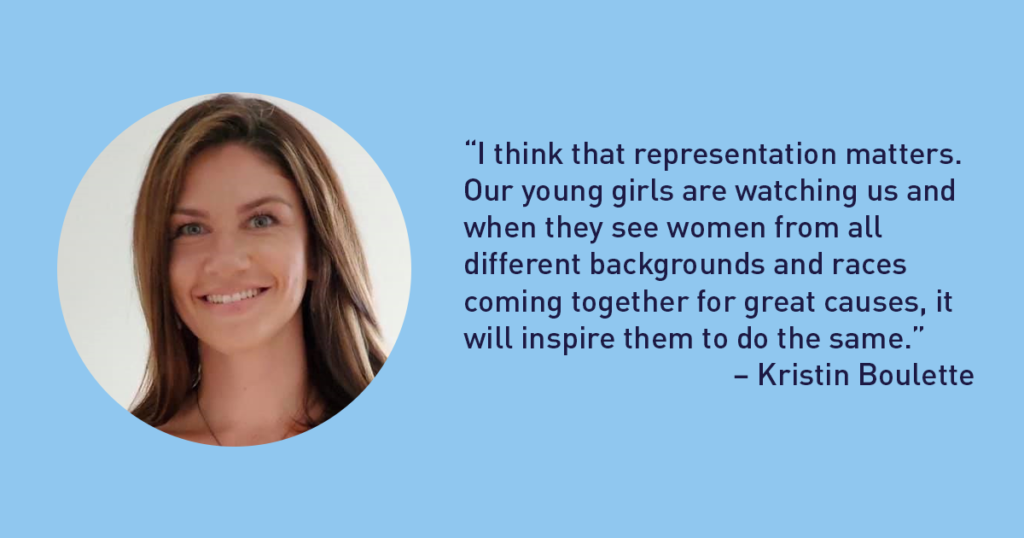 Responses have been edited for length and/or clarity.