Honoring T. Terrell Sessums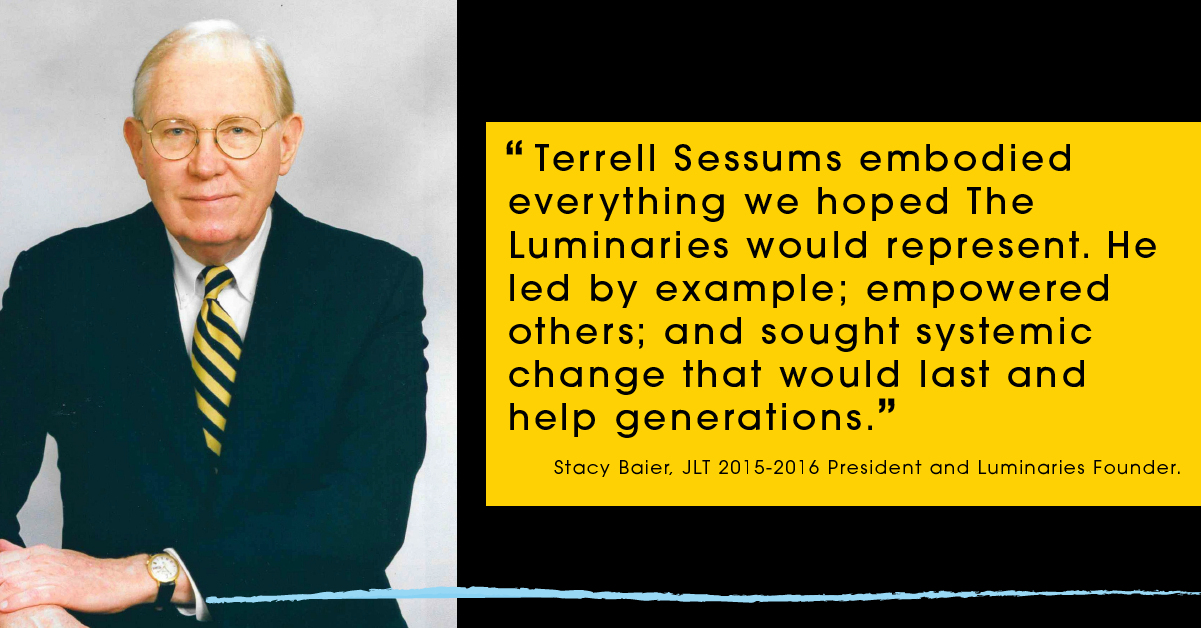 The Junior League of Tampa mourns the loss of Thomas Terrell Sessums, 2018 Luminary and lifelong Tampa Bay leader.
Sessums committed his life to public service and the greater good of the community. A lawyer by trade, Sessums served as a state legislator from 1963 to 1974 rising to become the Speaker of the Florida House of Representatives in 1972. In the House, he worked on legislation which still impacts the Tampa Bay community today. He helped create the Florida State Fair Authority, Hillsborough County Environmental Protection Commission, and the Tampa Sports Authority. He also authored the Florida Education Finance Program, transforming school district financing.
Education was truly at the heart of Sessums' life. Using his role as Speaker, Sessums championed the University of South Florida. His efforts saw significant expansion and set the State University System of Florida on a path to become a national leader in higher education. He further channeled this passion later serving in leadership positions at USF Honors College, University of Tampa Board of Trustees, and the Florida Board of Regents, where as Chairman he helped govern Florida's public university system.
While his professional achievements alone were noteworthy, Sessums' legacy of public service and passion for education were truly remarkable garnering his recognition among the 2018 Luminary award honorees. "Terrell Sessums embodied everything we hoped The Luminaries would represent. He led by example; empowered others; and sought systemic change that would last and help generations," said Stacy Baier, JLT 2015-2016 President and Luminaries Founder.
It was an honor to get to know Terrell Sessums and capture his story through The Luminaries program. "Through the unique approach of The Luminaries, The Junior League of Tampa and WEDU have preserved the vivid life history of a local hero—Terrell Sessums. Captured in his own words and those most influenced by him, his story will live on inspiring Tampa Bay's leaders of tomorrow," Melissa Knight Nodhturft, JLT 2019-2020 President and inaugural Luminaries Chair.