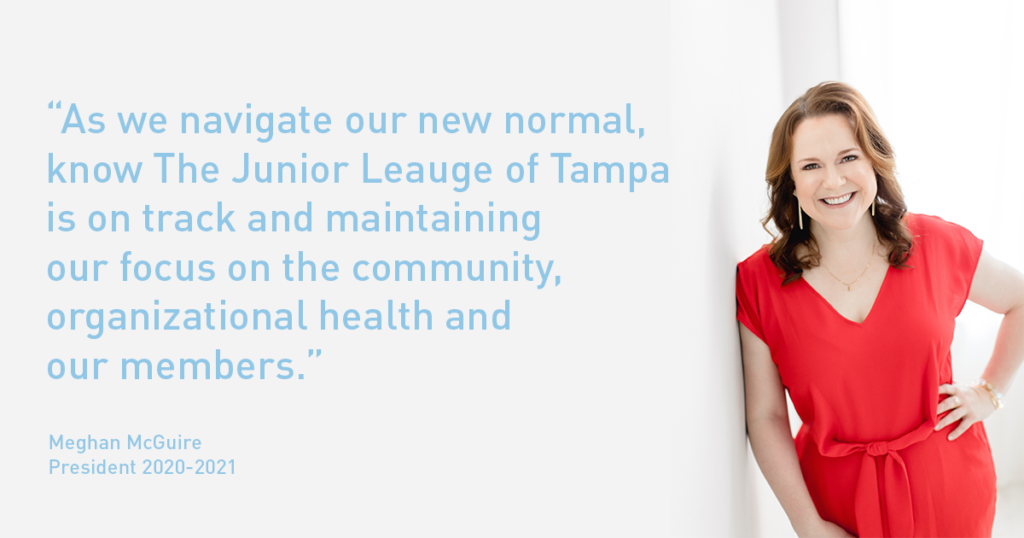 The Junior League of Tampa has over 94 years of community experience and yet, the last six months are like nothing we have ever faced before. As we navigate our new normal, know that The Junior League of Tampa is on track and maintaining our focus on the community, organizational health and our members.
Community
Our focus, first and foremost, is to serve our community. This summer our leaders connected with every community partner to get updates on how they are navigating the COVID environment and how the League can support. From the information gathered our community project teams have begun creating new innovative ways to safely serve Hillsborough County.
We heard from our partners that this is a critical time to maintain the work and connection. And we appreciate the dedication of our members to ensure success and sustainability.
Organizational Health
Organizational health and commitment to operational responsibilities, has ensured JLT remains a force for good in the community. Our leaders have developed and continue to update plans aligned with state in local guidelines. The safety of our members, employees, and greater community is a priority.
We have also continued our dedication to stewardship. When COVID first hit, decisions were made to cut spending not related to our community work and shift resources to critical needs. As we kicked off the new year in July, we made the decision to operate at 50% budget until we can assess the giving environment. Our dedicated team of leaders and advisors are constantly reviewing our internal numbers to keep us on track to meet our community responsibilities and stay fiscally strong.
Membership
The strength of our members is why our organization is so resilient. Our members in leadership have adapted in stride. We are seeing new ways to connect through virtual formats, offer safe distanced opportunities, expanded diversity, equity and inclusion information and increased communications. We are working to support our members whose lives have been drastically changed by COVID, providing a variety of resources.
The State of The Junior League of Tampa is strong. Words cannot capture the immense pride and gratitude I have for our organization as we rise to support our members, our partners, and our community.
Meghan McGuire
President 2020-2021